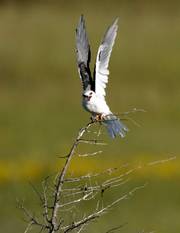 The white-tailed kite is rarely seen around these parts.
Biology experts are unsure how the adult bird ended up north of Lawrence in the last week. It's only the third documented sighting in Kansas.
But area bird enthusiasts have gone gaga over it.
"A lot of bird watchers are coming from out of town to try to see it because it's such a rare sight," said Galen Pittman, a station manager for the Kansas Biological Survey.
He first noticed the kite one week ago, and since then people have popped in from as far away as Wichita and Columbia, Mo., to catch a glimpse of the white long-winged hawk.
Word has traveled quickly since Pittman and other enthusiasts shared news of their sighting with those on an e-mail subscriber list with the Kansas Ornithological Society.
The bird has hung around the Nelson Environmental Study Area, operated by the biological survey, north of Lawrence in Jefferson County off Wild Horse Road.
Catch a glimpse
To get to a public viewing area of the white-tailed kite, take U.S. Highway 24-40 east from North Lawrence and turn left on East 1600 Road. The road becomes Wild Horse Road in Jefferson County. Continue up the road; after several turns and about one mile, the entrance to the Nelson Environmental Study Area is on the right at 350 Wild Horse Road. Continue north for about 3/8 of a mile. At a sharp bend in the road, pull off next to a pipe gate. Scan the fields to the north and east for the bird.
The white bird of prey has spent its time soaring and coasting in the sky and looking for field mice in the prairie grass.
"If there's enough wind blowing, it will actually hang in the air like a kite," Pittman said.
When it finds prey, the bird holds its wings steeper and swoops down to snatch up the mouse.
A U.S. Geological Survey map shows the bird species typically resides in California and southern Texas with other sightings in Arizona, Florida and New Mexico. Mostly, the kites live in Central and South America.
Pittman said this particular bird somehow wandered into the area for no reason, which sometimes happens during fall months.
"There's a lot of serious birders who have come out," he said. "Otherwise, it would take them years to see it because it's so rare."
Copyright 2017 The Lawrence Journal-World. All rights reserved. This material may not be published, broadcast, rewritten or redistributed. We strive to uphold our values for every story published.