In the weeks leading up to November elections, the Town and Country Republican Women of Douglas County will volunteer to pass out Republican candidate literature door to door, organize political forums and distribute Phill Kline signs around the county.
Lisa Todd, the group's president, says the women's hard work pays off.
"The statewide candidates talk about how they rely on the women in grass-roots efforts," Todd says. "That's how they win races."
Town and Country isn't the only political group in town that's been busy. The Douglas County Democratic Party, the League of Women Voters and Chapter 1696 of the AARP are working around the clock to prep for elections. And all of them are headed by women.
Joann Wiley, a founding member of the Town and Country Republican Women of Douglas County, says that she always votes Republican. But she still thinks it's important for voters to meet candidates and familiarize themselves with current issues before turning in their ballots.
That's why she helps organize a forum for Douglas County candidates - Democrats and Republicans - to speak their piece.
"It's for the purpose of letting people have the chance to see and meet candidates," Wiley says. "That's our goal. We want to have an informed voter."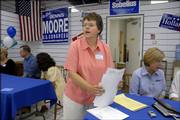 This year, the forum will be Sept. 25 in Baldwin.
Student registration
Informing voters is one thing; getting them to the polls is another.
The Douglas County League of Women Voters is working to set up a booth on the Kansas University campus to register students to vote. They use small, simple registration cards to make the process quick and easy.
Rusty Thomas, president of the group, says that she hopes to raise voter turnout in November. But it won't be easy.
"You can't really force people to do anything, let alone vote," Thomas says. "You've got to get them motivated."
The League of Women Voters was organized in 1920 to inform American women, who had just earned the right to vote, about the election process. Now, the group takes a broader approach. Thomas says that her group aims to inform all voters, regardless of gender or personal politics.
The national and state leagues do this by conducting studies on current issues. This month's hot topic is mental health. Thomas says the League of Women Voters is trying to find ways to improve the Kansas mental health system. As the study progresses, they'll share their findings with voters at the group's local meetings, which are open to the public.
Thomas says that the Douglas County League of Women Voters also is setting up forums and teaching classes like "Democracy in Action" and "Civics 101." The classes are designed for adults who want to learn more about the election process.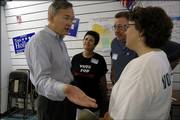 Democrats' efforts
The Douglas County Democrats are also preparing for upcoming elections by encouraging people to vote.
Beth Innes, the Douglas County Democrats coordinated campaign director, says that "a lot of people are motivated to vote and get involved because the Democratic Party has great leaders running like Kathleen Sebelius for governor and Paul Morrison for attorney general."
The latter race should prove to be particularly important to both Republicans and Democrats.
Atty. Gen. Phill Kline is being challenged by a former member of the Republican Party, Johnson County Dist. Atty. Paul Morrison, who is running as a Democrat in hopes of ousting Kline himself.
Mike Gaughan, Kansas Democratic Party executive director, says that race and the gubernatorial race, which pits Governer Kathleen Sebelius against Sen. Jim Barnett, are ones his party will focus on.
The same holds true for many Democrats at the county level, Innes says.
She says that jobs, education, health care and safe neighborhoods top the list of concerns for Douglas County Democrats.
Since Douglas County is considered one of the most liberal counties in Kansas, you might assume that local Democrats don't have to work very hard to get other citizens to see things their way. But Innes doesn't make any such assumption.
"Although Lawrence is seen as a 'liberal' town, we don't view our job as being easy," Innes says.
Republican challenges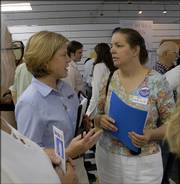 Todd, of the Town and Country Republican Women of Douglas County, says her job isn't easy, either. In fact, she says campaigning for Republicans here can sometimes be "an uphill battle."
"It does present a challenge, but we try to make sure that Douglas County still has Republicans," Todd says.
She adds that many of the women in her group come from a generation where stay-at-home-moms were the norm. Being a member of the Town and Country Republican Women of Douglas County, Todd says, provides "social time with a purpose."
"They're hard-working, and they're very dedicated to being Republican," Todd says.
Nonpartisan efforts
One group that works outside partisan politics is the local chapter of the AARP, or Association for the Advancement of Retired Persons.
Jane Pracht is president of Chapter 1696 in Douglas County. She says that AARP doesn't back candidates, just issues.
"Right now it's kind of a low point," Pracht says. She and the other 100 or so members of the local AARP will keep a watchful eye on November elections for issues that could affect the retired residents of Douglas County.
Recently, the local AARP fought to raise a monthly $30 allowance given to nursing home residents for the purchase of personal items like shampoo and soap.
Soon, at least some new elected officials will take office. There will be new ideas, new legislation and new issues to debate
It also means more work for Pracht, who says she organizes rallies and writes to legislators in advocacy of seniors.
Pracht's dedication to her cause is something that Todd says she shares.
"For us," Todd says, "It's like a purpose."
Copyright 2018 The Lawrence Journal-World. All rights reserved. This material may not be published, broadcast, rewritten or redistributed. We strive to uphold our values for every story published.