This is the second story in the Journal-World's series Kansas Crossroads exploring critical issues elected leaders will face in the next four years.
Topeka - In 1999, most Kansas lawmakers couldn't vote fast enough to increase taxes and sink the state in debt to fund a $13 billion, 10-year highway plan.
Sure, there were political skirmishes along the way, but the plan to raise taxes and borrow $1 billion was approved by wide margins with minor prodding by the highway industry.
Now, Kansas' six public universities report they are buried under a list of needed repairs that will cost an estimated $600 million to fix. That is less than one-twentieth the size of the highway tab. Kansas University is No. 1 on the repair list with more than $200 million worth of needed fixes.
But unlike the highway program, no one is rushing to fix higher ed's problem. The issue has been before the Legislature nearly for three years, and no action has been taken.
Meanwhile, the needed repair jobs keep increasing. The Kansas Board of Regents proposed a tax increase, but the Legislature immediately slammed the door shut on that.
In January, when the Legislature returns to session, the still simmering issue of "deferred maintenance" will confront legislators and the governor - whether it's Gov. Kathleen Sebelius, as a returned Democratic incumbent, or state Sen. Jim Barnett, her Republican challenger.
No new taxes
Audio Slideshow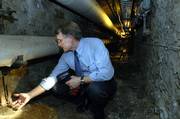 Crumbling colleges
Reggie Robinson, chief executive officer of the regents, said advancing the issue is a challenge in the current no-new-taxes political atmosphere.
"That's the big obstacle. In an environment where people say tax increases of any kind are off the table, how do you maintain what you are doing and find the resources necessary to address major problems that emerge like deferred maintenance?," Robinson asked.
The problem is symptomatic of larger trends, according to national experts.
State appropriations to universities are on the decline as a percentage of total university budgets, and tuitions are skyrocketing much beyond the rate of inflation, leaving many students unable to attend college, according to the National Center for Public Policy and Higher Education.
Societal changes
The funding shift represents a societal shift in attitude towards higher education, some say.
"Policymakers, because of budget restrictions, have begun to look at higher education as more of an individual benefit than a benefit to society at large," said Ross Hodel, co-director of the Center for the Study of Education Policy, based at Illinois State University.
Hodel said legislators have told him it doesn't bother them to ask people to pay higher tuition for four years instead of higher taxes to keep college affordable. The attitude is prevalent among Republicans and Democrats, Hodel said.
"There is a philosophy that saving taxpayers money is the top priority, rather than providing services," he said.
Illinois universities are facing a similar deferred maintenance problem, and the state's flagship school, Illinois University, has started charging student fees to pay for the repairs, he said.
Shrinking partner
Higher education costs at Kansas' six regents universities follow the national trend.
About the series
The Kansas Crossroads series attempts to get past the hot-button issues and focus on important matters that will require tough decisions to move the state forward. The Journal-World will present these issues to readers and call on the major party gubernatorial candidates - Gov. Kathleen Sebelius, a Democrat, and state Sen. Jim Barnett, a Republican - to address them before the Nov. 7 election. Last week, the Crossroads covered funding problems in the public employee retirement system. This week we look at challenges to higher education. These and other issues will affect tax rates, personal income and the quality of life in Kansas for generations.
From the 2003-04 academic year to the current academic year, the average tuition and fees paid by a resident undergraduate for a 15-hour course load has increased from $1,442 per semester to $2,251. The increase at KU has gone from $1,742 to $3,076.
Meanwhile, the percentage of support from the state toward the six regents universities' budget has decreased from 49 percent of the schools' budgets in 1985 to 29 percent last year. For KU, the amount of state assistance decreased from 48 percent of its total budget to 25 percent during the same period.
But state Rep. Melvin Neufeld, R-Ingalls, and chairman of the House budget committee, said lawmakers are not to blame for this state of affairs.
Universities in recent years have asked for more autonomy from the Legislature.
"The universities have made it clear to the Legislature that they want to be independent so that the Legislature has less say," Neufeld said.
And, he said, changes in the workplace have in many instances placed less emphasis on a college education.
"The economy does not have a demand that everyone have a fine arts degree. Employers care if someone has the specialized training to do the job," he said.
Private donors
To replace the public money, universities try to tap private donations, perhaps even for maintenance.
At a committee meeting in the last legislative session, Robinson was asked by a lawmaker if universities, when being given a donation to construct a building, could ask the donor to also provide money to maintain those buildings.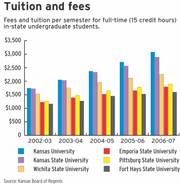 "There is a sense that for the universities in particular, that legislators seem to think private donors ought to play a bigger role," Robinson said.
"Part of what is missed in that is not every public institution has access to private resources in the same way. It's one thing for KU or K-State, which has a lot of donors who are heavy hitters, but is that same scale there for Emporia State and Pittsburg State? So the decline in public support hurts all, but it hurts some pretty significantly," he said.
The solution
On the issue of deferred maintenance, Robinson and higher education officials will continue to meet with legislators to try to devise a plan to address the repairs. Their major argument is that the longer a solution is put off, the more expensive the remedy becomes.
-->
Robinson said the state's 19 junior colleges and Washburn University currently are checking to see what repairs they need and how much that will cost. That estimate plus revised numbers from the regents institutions should be compiled by November.
Robinson said he believes the issue of deferred maintenance will get more traction when the Legislature meets in January, if the community colleges are included.
"That increases the prospects of support when you broaden the group of participants who are going to benefit from the resource package," he said.
But Neufeld, the House budget chair, said there will be no big-time solution to the problem of deferred maintenance.
Because of the recent fight over public school finance, the first priority of state spending will go to kindergarten through 12th grade, he said.
He said the Legislature will not pass a tax increase, nor does he think a majority of lawmakers are inclined to issue bonds for repairs.
"Nothing is easy," he said.
What's next
The state's junior colleges are supposed to report soon on their deferred maintenance costs. The Legislative Budget Committee is scheduled this fall to review deferred maintenance needs, "especially for needed life safety improvement," and make a recommendation to the 2007 Legislature on a long-term funding plan to address the problem. Kansas Board of Regents President Reggie Robinson will answer questions during an Internet chat at 3 p.m. Monday at ljworld.com.
Copyright 2018 The Lawrence Journal-World. All rights reserved. This material may not be published, broadcast, rewritten or redistributed. We strive to uphold our values for every story published.