Overland Park — Tony Williams knew who had buttered his bread, so the Lawrence High running back tossed the obligatory bouquets.
"Our offensive line blocked tremendous," Williams said, "and I just ran through the holes."
Williams ran through enough holes to gain 207 yards and score three touchdowns as the Lions punished Shawnee Mission South, 42-21, Friday night at SM South District Stadium.
Well, actually, it wasn't all the offensive line. The 6-0, 200-pound Williams gained a lot of his yardage on his own.
"He ran hard," offensive guard Patrick Johnson said. "It's fun to block for a kid who runs hard. You want to block for him more and more."
After two losses by a touchdown each to open the season, the Lions came out swinging against the winless Raiders (0-3).
"We hit, we hit, we hit," Johnson said. "We knocked them off the line."
Williams wasn't the only back throwing punches. Fullback Tyler Hunt gained 101 yards on 19 carries and Malcolm Sims, subbing for the cramping Williams in the fourth quarter, contributed 63 yards on 10 carries.
Lawrence ball-carriers pounded the Raiders' defense a punishing 62 times for 375 yards. In last week's 14-7 loss to Olathe South, the Lions gained only 106 yards on the ground.
Photo Gallery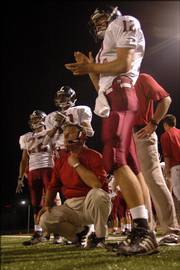 LHS vs. SM South football
"We were pretty embarrassed the way we played up front (against O-South)," LHS coach Dirk Wedd said, "so we had a talk on Saturday about what it means to be an offensive lineman at this school."
Clearly, the offensive linemen caught Wedd's drift.
At the same time, Wedd gave credit, too, to Williams and Hunt.
"I love running the football," the Lions' coach said, "and those two backs are great. Tony, for instance, plays every down on defense, too, and some of the prima donna running backs in this league play only one way."
Williams also punts, but he was forced to do that only once as the Lions ate up the clock with their ground-oriented scoring drives.
Quarterback Chance Riley completed only one pass, but it was a 14-yard scoring strike to wide receiver Nathan Padia who made a diving catch just inside the right pylon of the end zone midway through the second quarter. Padia also had, coincidentally, a 14-yard scoring run off a reverse late in the first quarter.
Padia's rushing TD came after senior cornerback Aresenio Criss, making his first career start, picked off a Mitch Hedrick pass and carted the ball 41 yards to the Raiders' 28-yard line.
Shawnee Mission South's touchdowns came on an 84-yard kickoff return, following a sack and fumble by Chance Riley and on a last-ditch pass with less than a minute to play.
"It seems our best defense was running the football," Wedd said. "We need to start putting it all together. Last week we were good on defense, but not on offense. This week our offense was good, but our defense wasn't that good."
Lawrence High began the season with barely a handful for returning starters, and Wedd knew it would take awhile for this team to coalesce. Friday night was a start, but the chemicals are still cooking under the bunsen burner.
"We're kind of a ship without a rudder," Wedd said. "We're still trying to figure out our identity."
The Lions (1-2) will return to Haskell Stadium next Friday night for their homecoming game against another winless team, Sunflower League doormat Leavenworth.
Copyright 2018 The Lawrence Journal-World. All rights reserved. This material may not be published, broadcast, rewritten or redistributed. We strive to uphold our values for every story published.