It's poker, minus the smoke-filled rooms and wads of cash.
Yeah, you actually can play it that way.
Lawrence's Parks and Recreation Department is set to prove it next week. The city department on Tuesday will begin offering its first class on how to play Texas Hold 'em poker, the game that has invaded the television airwaves and made ordinary Joes into millionaires through events like the World Series of Poker.
"I don't think we would have done something like this 15 years ago, but I try to go with the trends and go with what's hot," said Jo Ellis, the city's recreation program supervisor. "And poker is hot right now."
For $45 - which parks and recreation leaders said is a bargain compared with learning the game the hard way at a casino - people will receive five two-hour classes. Local poker player Jeff Croft - who also is an employee of The World Company, which owns the Journal-World - will serve as the instructor.
Ellis said poker is becoming a more mainstream activity and doesn't always involve gambling. She said many card parties among friends now focus on poker instead of games like pitch or bridge.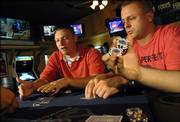 And it is a game that almost begs for instruction, Ellis said. In addition to learning the basics of which hand beats another, there is jargon galore that surrounds the game.
For example, what is a novice to think when he hears a player say he "has the nuts"? No, it actually isn't vulgar. And what the heck does a "river" have to do with a card game, and just what is a "Big Slick," anyway?
The class, which runs on Tuesday nights, is meant to teach participants those basics, in addition to providing tips about how to read another player's body language, and as Kenny Rogers would say, how to "know when to hold 'em, know when to fold 'em."
"I think it would probably be good to learn (the rules) in a class," said Frank Terreros, a Lawrence resident who was playing this week in a free poker tournament at the Yacht Club, 520 Wis. "Most people probably would feel uncomfortable coming right in and playing."
Some community members, though, are hoping the class doesn't teach bad lessons. James Bailey, minister of Lawrence's Southside Church of Christ, 1105 W. 25th St., said he doesn't want the city to plant the seed that leads to a gambling habit.
"They maybe could be teaching something a little more instructive," Bailey said. "It starts off as a fun little game, but I have actually known people in the past who have lost everything they own. It is a snake that can be very, very difficult to kill."
Ellis, though, said she didn't think the city was promoting gambling. She said the class would not involve any games that involved betting anything of monetary value. The department also is limiting registration in the class to people who are 21 years or older.
"We just want to teach people the skills," Ellis said. "What you do with them after the class is over is up to you."
Ellis said that offering poker classes had become a bit of a trend in the parks and recreation industry. She said the parks and recreation department in Shawnee was offering similar classes, as well as several departments in Missouri.
"I think people are going to learn quite a bit if they take the class," Ellis said.
Sounding like a professional
Here's some of the jargon you might encounter at a poker table. Bad Beat: A good hand that would have been expected to win the pot but was beaten by a lucky draw. Big Slick: A term describing an Ace-King combination. Boat: Slang for a Full House, which is a combination of three of a kind and a pair. Coffeehousing: When players chat about a hand they are involved in, with the intent of manipulating other players. Gut Shot: To draw to an inside straight. Nuts: The best possible hand that can't be beaten at a particular point of the game. River: The final card dealt as part of a Texas Hold 'em hand.
Copyright 2018 The Lawrence Journal-World. All rights reserved. This material may not be published, broadcast, rewritten or redistributed. We strive to uphold our values for every story published.