Phil Hellmuth has a record-tying 10 World Series of Poker titles and millions of dollars of earnings on Jim Hayes.
But Hayes has something Hellmuth doesn't: a seat in the second round of the 2006 WSOP Main Event.
Hellmuth, perhaps the most famous - just ask him - poker pro was knocked out after just six hours of the first round of the Texas Hold 'Em tournament at the Rio hotel and casino in Las Vegas.
But Hayes, a 63-year-old who owns Hayes Hamburger and Chili in Lawrence, played his way into the second round by winning $25,375 in chips Sunday, surviving the cut from 2,000 hopefuls to 800.
"It's been fun," Hayes said. "Exhausting, but fun."
Hayes had to last just under 16 hours Sunday to advance. It was one of four days of first-round play.
"I felt like I was ripped by an angry mob," said Hayes, whose marathon session ended at 3:45 Monday morning. "But I got some sleep, and I'm OK now."
Each of four flights from Friday to Monday was whittled to 800 players. Tuesday and today, those 3,200 will be culled to 1,400.
Hayes will return to the tables today. The champion will be crowned Aug. 10 and earn a top purse that will exceed $11.5 million. Hayes figures it might as well be he who cashes the big check.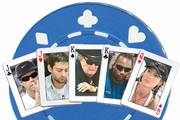 "The number of pros in relation to amateurs is probably not even 3 percent," Hayes said. "Several of the top pros have already been knocked out. They're just so outnumbered. The last few years, anybody has a chance to win it. I've got a really long shot, but it's as good a shot as anybody."
Hayes hasn't won anything yet, but he's not surprised to have advanced.
Never mind that never before has he entered a Texas Hold 'Em tournament - let alone the wildly popular WSOP Main Event - and that most of his experience has come online.
"I thought I wanted to do it once before I got too old," he said. "I'm not a big-time poker player, but I like to play a little online."
In fact, Hayes thinks his Web learning might be to his advantage.
"I can learn in six months to a year what these guys took 10 years to learn," he said. "Online, you can play four different games at the same time if you can handle it. You're looking at 160 hands an hour. Here, it's 12-15 hands an hour. Playing more hands, you can learn a lot quicker. It's not the same as playing in person, but you can learn the odds, learn all the poker strategy."
The biggest difference, Hayes said, between online and live poker is the ability to read opponents.
"You can't read people online too well, but here, in person, you learn the people at your table," he said. "You learn their bluffs, their tendencies. After a few hours, you have a general idea what they're doing. Whether you can capitalize is another thing.
"My ability to read is one thing, but you still have to get good cards. Poker's got a lot of psychology to it. But I'd take a good hand over the psychology anytime."
The physical strain of playing close to 16 hours is another matter.
Players in the early rounds are given only limited breaks, making the marathon as much about endurance as skill.
For Hayes, the key was to stay away from booze and jittery juice.
"It got very tiring, and since we only get a break every two hours, you can't drink a lot of coffee," he said. "Some guys were drinking a lot of Red Bull and caffeine drinks. It really affected their play. They were jittery. The best way is to stay calm and stay off the hyper drink. And a lot of guys were drinking alcohol. By the end of the night, they were getting loud and had to be quieted down. They went a little overboard. It was kind of funny. I don't think any of them made it out."
While some of the close to 9,000 players earned their berths to the WSOP Main Event through satellite tournaments, Hayes bought his way in. Admission cost him $10,000.
"First place is $10 million, and it cost $10,000, so it's 1,000-to-1 on the bet," Hayes said. "There's a lot of luck involved, but a lot of skill. To me, it's worth it. I've really enjoyed it out here, met a bunch of new people. I don't gamble, except at the tables. I'm here to pit myself against the other people on the poker table."
He's also not star-struck. Several actors, actresses and famous athletes are playing in the WSOP.
Among the beautiful people: actors Dean Cain, Tobey Maguire, James Garner, Norm MacDonald, Mekhi Phifer; actresses Robin Tunney and Shannon Elizabeth; boxers Lennox Lewis and Antonio Carver; and golfer Paul Azinger.
"We had a lady on our table. I don't know who she was, but I knew she was a star because there were all these cameras," Hayes said. "She left after about 35 minutes. She's a pretty good player, but she got popped.
"I don't know how many stars I've run into. But I'm more interested in staying relaxed than running around getting autographs. I want them to ask me for my autograph when I win it all."
Copyright 2018 The Lawrence Journal-World. All rights reserved. This material may not be published, broadcast, rewritten or redistributed. We strive to uphold our values for every story published.