Fans in one section of the Free State High gymnasium chanted "Free State! Free State!" while another chanted "Here we go, Lions! Here we go!"
Ultimately, the former had the most to cheer about.
Free State (3-0) won each match of its quadrangular Wednesday night at FSHS, but its last victory - against rival Lawrence High (1-2) - carried a special meaning.
"Lawrence is our crosstown rival. So it's always more of an emotional game," Free State senior Kelsey Harrison said. "There's more to it than just another game."
That emotion-filled match nearly went Lawrence's way. After splitting the first two games, LHS led, 23-21, in the final game.
Free State coach Nancy Hopkins called a timeout to collect her team.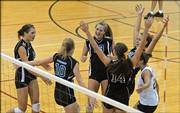 "You promised to hustle. If you do that, you'll end up winning," Hopkins said, exhorting her team. "Fundamentals are going to keep you in the game."
Free State responded, holding LHS scoreless the rest of the way to win, 25-23.
"I'm just so proud of our team," Free State senior Jessica Scott said, "to come back in that last game."
Such a climactic finish seemed unlikely after Free State swept Shawnee Mission North and Olathe North in its first two matches and convincingly defeated LHS, 25-11, in the first game between the local schools.
"Free State was a much better team the first match - by far," Lawrence coach Molly LaMere said. "That's the great thing about our team. They weren't going to lay down and just take another beating like that. They were going to come back."
Indeed Lawrence, fueled by the senior leadership of Emily Renfro, Amanda Weishaar and Sydnei Tolefree, won the second match, 27-25, setting up the dramatic showdown between two hungry teams.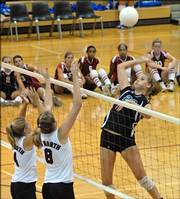 "Both teams have so much character and so much heart," LaMere said.
Although the Free State-Lawrence High games elicited the frenzy of the local crowd, two other teams competed in the quad. Shawnee Mission North defeated LHS and Olathe North and lost to Free State, and Olathe North lost all three matches.
Free State, however, set itself apart from the rest of the teams. Although the Firebirds demonstrated impressive passing skills, the tenacity of their play stood out.
"Every point we were going to fight for," Harrison said.
LHS fought hard, too, but LaMere hopes to improve both the Lions' passing and serving during practice.
"All the fundamental stuff," she said, "we need to improve on and make it more consistent."
The victorious Firebirds played consistently throughout, and their 3-0 start should bode well for the rest of the season.
"Hopefully, they'll use this sweep to build on," Hopkins said. "I asked them to try to use this to set the tone for the rest of the season."
Quest for the cup
The battle for the World Company Cup is officially in full swing once again. Free State High's volleyball team fired the first salvo in the 2006-07 city rivalry with Wednesday night's head-to-head victory against Lawrence High during a quadrangular meet at Free State. One point is awarded to the winning team each time Lawrence High and Free State High square off in a varsity sports event during the course of a school year. In those sports where the two schools don't actually meet face to face, a point is awarded to the team that finishes higher at the league meet. Free State won last year's inaugural cup, 17-10.
Copyright 2018 The Lawrence Journal-World. All rights reserved. This material may not be published, broadcast, rewritten or redistributed. We strive to uphold our values for every story published.