Kansas University's 59th annual Band Day will take on added significance Saturday for some musicians and directors, because the five-year anniversary of 9-11 falls two days later.
"I think it's going to be one of the best tribute shows that we can do for our country in these challenging times," said Charles Van Middlesworth, director of Tonganoxie High School's Marching Chieftains.
Organizers expect more than 2,000 students to participate in the traditional afternoon parade down Massachusetts Street and the half-time performance during the KU vs. Louisiana-Monroe game, which begins at 6 p.m.
During the half-time show, the bands will perform several patriotic pieces, including "Patriotic Finale," an arrangement by Robert Foster, former KU director of bands and a long-time music professor.
Van Middlesworth will bring 70 students to Lawrence on Saturday to join 32 other Kansas and Missouri high school marching bands, the Lawrence and Free State high school bands among them.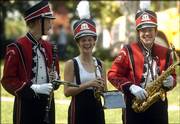 Coordinator Tom Stidham, KU's associate director of bands, said the half-time performance always presents a challenge as the high school bands surround the Marching Jayhawks and cover Memorial Stadium's field.
"We put a 2,000-piece band together in 30 minutes, and most of the time they do pretty good," he said.
The activities coincide with KU's Family Weekend.
"It gives my kids such an exposure to a college atmosphere, and being from such a small town, it gives the kids an idea that you can do anything," said Tammy Gigstad, band director at Jefferson County North High School in Winchester, which will bring 97 students.
Bands from Baldwin, Perry-Lecompton, Ottawa, Shawnee Heights and McLouth high schools also are expected to participate.
Stidham, Foster, athletic bands director David Clemmer and John Lynch, KU's director of bands, will each conduct one song during the half-time performance.
Band Day activities on Saturday
Band Day Parade - 1:30 p.m., begins at Seventh and Massachusetts streets and ends at South Park, 11th and Massachusetts streets. Performance - half-time of KU vs. Louisiana-Monroe football game, which begins at 6 p.m. at Memorial Stadium.
Copyright 2018 The Lawrence Journal-World. All rights reserved. This material may not be published, broadcast, rewritten or redistributed. We strive to uphold our values for every story published.