Ask Ryan Murphy about Murphy's Law, and he'll give you a knowing look.
Free State High's senior quarterback experienced the phenomenon a year ago this week when Olathe East clipped the Firebirds, 28-6.
"Everything we did went wrong, and it snowballed on us," Murphy said.
Seven times the Firebirds advanced within the Hawks' 15-yard line, and six times they self-destructed, because of penalties, missed assignments or botched plays.
If something could go wrong, it usually did. That's Murphy's Law.
"That was a heartbreaking loss," Murphy said. "We were beating them the whole game, but we couldn't produce in the red zone."
Still, despite the Firebirds' overall woes, Murphy compiled nearly 300 yards of offense against the team that would advance to the Class 6A state championship game.
Now the Firebirds will have another crack at the Hawks. Kickoff will be at 7 tonight at Haskell Stadium.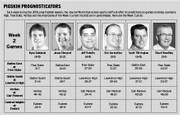 In the Sunflower League preseason coaches' poll, Free State was ranked second behind Shawnee Mission West, and Olathe East was third. Only one point separated the Firebirds and Hawks. Thus, tonight's winner should loom as a legitimate league title threat.
The Firebirds opened Friday with a 60-0 romp of sad-sack Leavenworth as Murphy ran for two touchdowns, passed for two more and returned the opening kickoff 92 yards for a touchdown.
"We got the first-game jitters out of the way," Murphy said. "Now we can get focused on East. They're always good. They always have a lot of talent."
After the Leavenworth tune-up, Murphy says he's ready to face a team on the other end of the talent spectrum.
"A good team," he said, "will show us how good we really are."
O-East lost Derek Miller, first-team all-league quarterback in '05, to graduation, but the Hawks return one of the league's best running backs in Demetrius Bell.
Bell, a 5-foot-9, 165-pound senior, carried 29 times for 187 yards and scored all three touchdowns in the Hawks' season-opening 20-0 victory Friday over Olathe Northwest. In last year's meeting with Free State, Bell scored twice, on runs of 37 and 18 yards.
"He's a fast kid who loves to run north and south," Free State coach Bob Lisher said.
Added Free State defensive lineman Christian Ballard: "He's a talented guy. But they also have a good quarterback and pretty big linemen : hopefully, we can stop their running game."
O-East junior quarterback Travis Tannahill is a horse at 6-4, 220 pounds, but he completed just three of 10 passes for 28 yards against O-Northwest. The Hawks were guilty of at least three dropped passes, however.
Free State will return to Haskell Stadium a week from Friday to entertain Shawnee Mission North.
Copyright 2018 The Lawrence Journal-World. All rights reserved. This material may not be published, broadcast, rewritten or redistributed. We strive to uphold our values for every story published.