They're jeered, taunted and sometimes flipped the bird. One was struck by a car.
For the students who police parking spaces for Kansas University's parking and transit department, writing tickets to unappreciative drivers can be a thankless job.
"The first instinct is always to say that I'm evil or I'm selling out," student and veteran ticket-writer Alan Bloomquist said. "You never like the ticket-writer."
The department has issued nearly 70,000 parking tickets in the last year - many to the dismay of students such as Brian Kelly. The KU junior received three parking tickets last semester.
"I was pretty furious," he said. "It seems like they have nothing better to do but sit there and wait for someone to park and run up to their car real quick and throw a ticket on it."
Conflict may not happen every day, but it comes with the parking-ticket business.
Dave Moore, field manager for parking and transit, said the department asks potential hires how they would handle run-ins with disgruntled drivers and helps by offering advice on how to deal with potentially heated situations.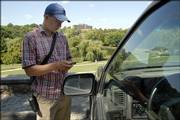 Run-ins come with the job, he said, and ticket writers have their share of stories. He recalled one ticket writer who was knocked over when a driver backed into him. And he recalled another situation in which a KU employee argued with a ticket writer, even though the ticket was for someone else's car.
"People are people," he said. "You just have to deal with them in certain ways sometimes."
KU student Erica Price racked up eight tickets in one unfortunate year. She tried to fight them, but to no avail.
She was particularly perturbed to get to her car as the ticket writer finished one ticket - too late to erase her mistake.
"When they see you come back and they still give you the ticket, it makes me mad," she said.
So whose skin is thick enough for this line of work?
"I want someone who works well with people," Moore said.
Moore said Bloomquist is a good employee because he works well with people.
Bloomquist, a native of Washington state, took the job three years ago to help pay for school. It was the first job he interviewed for on campus, and he's stayed ever since. He said he likes the outdoors and the people.
With his electronic ticket machine dangling around his neck, Bloomquist walked the campus Tuesday, eyeing vehicles for their tags.
Bloomquist said he takes his job and the occasional name calling or negative comment in stride.
"I'm just a third party," he said. "I have the parking department on one end and the person who's getting the ticket on the other end."
KU has three major zones: red, blue and yellow. Drivers are permitted to park in areas depending on their status.
The rules seem simple to Bloomquist, but many drivers don't understand, he said.
"I don't think many people think about it," he said. "I'd say most of the tickets you write are people that just don't care."
He has his own way for dealing with angry motorists.
"I find the best way is to just walk away from people," he said. "They either have to leave or follow me, and I've never had anyone follow me."
Copyright 2018 The Lawrence Journal-World. All rights reserved. This material may not be published, broadcast, rewritten or redistributed. We strive to uphold our values for every story published.