Armed bounty hunters took Robert D. Davis II from the comfort of his home last week and delivered him to jail; the next day he appeared before a Douglas County judge.
The problem, as it turned out, was that the 28-year-old Lawrence man wasn't wanted. He happens to have the same name as another man the bondsman was looking for - but who is dead.
"Their job is to go get the fugitive, but I'm not a fugitive," Davis said. "They're messing with the wrong guy."
Judge Paula Martin was upset when she learned that Davis was wrongly brought before her. Now it's up in the air as to whether the bondsman that arranged for Davis' arrest, Jim Price of A-1 Bonding Co., will be able to stay in business here.
"You should not have been arrested," Martin told Davis in court Thursday afternoon. "I can't give you legal advice. But we need to talk, Mr. Price, about whether you are going to continue to post bonds in Douglas County based on this."
Price, 69, said he's recently had health problems, including a stroke and a grand mal seizure that may have contributed to the confusion. He said he incorrectly believed that he was looking for a different man, Robert Lee Davis Jr., who is deceased, and didn't realize the mistake until he stood before the judge.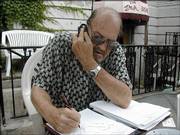 "It's kind of a mixed-up deal all the way around," he said.
Davis said he was getting ready to go to sleep Wednesday night at his home at Gaslight Village mobile home park, 1900 W. 31st St., when a group of bounty hunters came to his door.
"They just told me I knew the procedure. I put my hands behind my head. They put me in handcuffs, put me in their vehicle and took me to the county jail," he said. "I knew they were in the wrong."
He spent the night in jail and appeared before Martin the next day. She ordered him to be released on the spot. Davis said his arrest caused him to lose a temporary factory job.
"I'm going to find a lawyer to see if I can sue Mr. Price for false arrest, harassment and having me lose my job," he said.
Bondsmen such as Price have a financial interest in tracking down people who fail to appear in court. They typically charge people a 10 percent fee to post the money required to get them out of jail. If the defendant fails to appear in court later, the bond can be forfeited and the bondsman can be ordered to pay the money to the court.
Bondsmen have the power to arrest someone they've bonded out of jail in an effort to bring them back to court.
Davis said he doesn't believe that the bounty hunters really thought he was the deceased Robert Davis.
Instead, he thinks they mistakenly thought he was still wanted for a 2005 driving-while-suspended case for which Price had bonded him out of jail. Even though Davis had failed to appear in court several times while out on bond in that case, he eventually appeared to answer the charge and was sentenced to five days in jail, plus fines and court costs.
Martin ordered Davis' bond in that case to be forfeited in late December, after Price failed to appear at a hearing on the matter, according to court records.
Price said he met with Martin after Thursday's hearing but that no decision had been reached about whether he will keep working in Douglas County.
Copyright 2018 The Lawrence Journal-World. All rights reserved. This material may not be published, broadcast, rewritten or redistributed. We strive to uphold our values for every story published.