Thug. Outlaw. Cowboy.
Jim Price and Steve Robson, two Lawrence bail bondsmen, have heard those labels too often for their liking in recent months as lawmakers have taken steps to curb alleged abuses in the bonding industry.
Now, they're speaking up in defense of their industry and to say bail bondsmen and bondswomen save taxpayers money by helping get people out of jail. They say the kinds of troublemakers that have caused controversy recently -- those who use bullying, intimidation or violence to apprehend bond jumpers -- are uncommon.
"We're not all door-kicking bad guys," said Robson, 43, of Arrow bonding company. "We've been bit, spit on, run off, everything else, but I've never stuck a gun in anybody's face, never hit anybody,"
Said Price, 66, of A-1 Bonding, "The most dangerous weapon I've ever carried is a Taser (stun gun), and I've never used it," he said. "I've crackled it a few times, and that usually takes the starch out of the person because they don't want you to use it."
People like Price and Robson make their money by charging people a fee to post bond to get them out of jail. If the person later fails to show up for court, it's the bondsman or bondswoman's responsibility to bring the defendant back to court, or come up with the bond amount.
"We do daily community service work, I think," Price said.
There are plenty of opportunities for bondsmen to become corrupt, Price and Robson said. For example, some defendants offer drugs or stolen property in place of cash fees.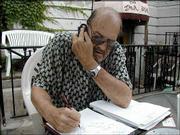 Problems also can arise in the process of bringing a bond-jumping defendant back to jail, known as "making a recovery." Earlier this year, law-enforcement officials went to the Legislature with a list of examples of abuses by bondsmen or the bounty hunters in finding and arresting bond-jumpers.
The Legislature then passed a law banning people with a felony conviction in the past 10 years from working in the field. It also required bondsmen and bondswomen to contact local police if they're planning to make an arrest, a provision that Robson and Price said left too much gray area.
"If it's a simple situation, you're tying up the resources of the police department for nothing," Price said.
Last week the Kansas Supreme Court issued a ruling in a Lawrence case clarifying that bondsmen don't have the right to break into the home of a "third party" -- for example, a defendant's friend -- unless they have clear evidence that the defendant is inside.
Price and Robson say they already knew that and very rarely resort to breaking doors. Most people, they said, are recovered with a phone call.
Also last week, a rural Douglas County family alleged that a group of bounty hunters from Kansas City misrepresented themselves as police to get into a home to look for someone who doesn't live there. A man who lives at the home said sheriff's detectives have been back to investigate whether a crime was committed, but no charges have been filed.
Dist. Atty. Christine Kenney said she believed that, for the most part, the bond agents who routinely worked in Douglas County did so within "reasonable guidelines."
"Even so, there just needs to be some clear guidance on what they can and can't do," she said.
Copyright 2018 The Lawrence Journal-World. All rights reserved. This material may not be published, broadcast, rewritten or redistributed. We strive to uphold our values for every story published.