Thousands of animals find their way through the doors of the Lawrence Humane Society's shelter.
Now, the society is trying to come up with about $470,000 for repairs and expansion of the structure, after the Kansas Animal Health Department said the building must be fixed.
"In June, during an inspection, they said we needed to get started," shelter executive director Midge Grinstead said.
Society officials said the days of patchwork repairs to cracks in floors and walls have run their course.
State animal health authorities told the society it must make permanent repairs to problems that began after part of the shelter building shifted eight years ago.
The society and its supporters soon will begin a fundraising campaign to help pay for repairs and build a 5,000-square-foot expansion. The total cost is expected to be nearly $470,000. Grinstead said she didn't know the cost for the expansion, separate from the repairs.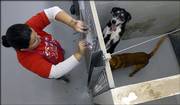 The building is not in danger of collapsing, but repairs have been ongoing since the shifting occurred on the east side and northeast corner of the building. In addition the cracks, part of the floor rose, causing water to flow in unwanted directions during cleaning. Rust also has caused holes at the base of some of the shelter's metal walls.
The cracks occasionally have prevented the use of some kennels, Grinstead said.
"It's been kind of an everyday job to have to fix some sort of thing, and we're where we can't do that anymore," she said.
State animal health inspectors knew about the building problems prior to this year, Grinstead said.
"They've been talking to me, and we've been trying to work it out," she said.
The addition will be about half of the size of the existing building at 1805 E. 19th St. That will allow dogs, cats and kittens to be placed in separate areas, said Jeaneen Hercha, a society staff member in charge of animal cruelty investigations.
"It will be a lot less stressful for the animals," Hercha said. "Right now we don't have kitten visiting rooms, so people can't interact with the animals they are interested in adopting."
There also will be a larger room for staff and volunteers who are working with dogs and cats in grooming areas. There are nine full-time and 16 part-time employees. About 300 people volunteer to do various jobs for the society.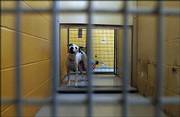 Plans for the addition, which will be on the building's east side, have been drawn up by Treanor Architects of Lawrence. Grinstead said she hoped construction could begin in October and be completed in April. The plans have been submitted to the city for approval, she said.
The society has about $50,000 available for the project, Grinstead said. She has applied for some grants and is working to identify other possible sources of funding.
Lately, the shelter has been housing 750 to 800 animals a day, Hercha said.
"We're pretty much full," she said.
Last year, the shelter took in more than 7,000 animals, including about 3,650 dogs, 3,200 cats and 450 "hand-held" animals such as hamsters and rabbits, Grinstead said. Homes were found for 84 percent of the dogs, 79 percent of the cats and 92 percent of the hand-held pets, she said.
Copyright 2018 The Lawrence Journal-World. All rights reserved. This material may not be published, broadcast, rewritten or redistributed. We strive to uphold our values for every story published.