After less than a year in business, Katherine "KH" Harris has managed to move tons of merchandise.
Try 99.2 tons.
As manager of the Habitat ReStore in Lawrence, Harris has overseen the sale of piles, stacks and truckloads of donated appliances, cabinets, doors, switches, tiles, lumber, shingles, windows and other items, all of them in good working condition.
The items are purchased by folks looking to save a buck or two when doing their own construction or remodeling projects, with sale proceeds going toward Lawrence Habitat for Humanity's ongoing goal: helping low-income people buy - and build - their own homes.
"It's a great deal," Harris said.
After opening Sept. 23, the store soon found itself experiencing monthly sales growth of 25 percent to 45 percent a month, Harris said. And these days the store at 800 Comet Lane barely has enough room to handle its growing but eclectic mixture of donated items.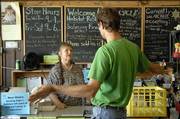 An antique, cast-iron pedestal sink goes for $150, while toilets are $10 apiece. Century Homes recently donated a truckload of never-before-opened doors, from $15 for closets to $70 for louvered models.
"These are things they were just going to take a sledgehammer to," Harris said. "I think people think that if we're diverting it from the landfill, it must be trash. But that's just not true."
No formal events have been scheduled for the ReStore's one-year anniversary, but Harris already is celebrating one accomplishment: The store, having brought in a little more than $75,000 in revenue during its first year, has passed the break-even point and now is contributing money toward Habitat's mission.
"We're just at the point where we're starting to get $1,000 a month over break-even," she said. "For any business, to get to break-even within a year is amazing."
The ReStore is open from 9 a.m. to 1 p.m. Tuesdays through Thursdays, and from 9 a.m. to 6 p.m. Fridays and Saturdays. For more information, click on www.lawrencehabitat.org/restore.
Housing program seeks families
People interested in applying to build and own a home through Lawrence Habitat for Humanity are invited to attend an informal meeting at 7 tonight at Plymouth Congregational Church, 925 Vt. The meeting is sponsored by the organization's Family Selection Committee.
Copyright 2018 The Lawrence Journal-World. All rights reserved. This material may not be published, broadcast, rewritten or redistributed. We strive to uphold our values for every story published.