No, no, Draco, that's not yours. It's the Frisbee, Draco, the Frisbee.
Draco was one of about 200 dogs enjoying the fourth annual Pooch Plunge Tuesday at the Lawrence Aquatic Center.
The big, 5-year-old German shepherd didn't seem to care much about his Frisbee. Instead, he paddled toward a neon-green tennis ball floating nearby, though a yellow Lab already had eyes on it.
"I think (the Frisbee's) just too far out there," Draco's owner, Danielle Dumortier, said. "I think he'd rather just swim around."
The annual canine swimming event occurs the day before the pool is closed and drained for the season.
Here's what you might have seen, had you been there:
¢ Every nearby man, woman and child left soaking wet due to constant shaking of wet fur.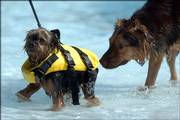 ¢ Several dogs forgoing the chance to swim to concentrate on rear sniffing.
¢ A makeshift game of hide-and-seek when the kiddie pool became filled with similarly sized black dogs.
"You realize how many black dogs are here," said Jolene Dreiling, trying her best to keep her two black Rottweiler-border collie mixes at hand.
Dreiling's pups, Boomer and Bailey, swam most of the time in the kiddie pool, as did many of the other dogs.
Not that her animals weren't practiced swimmers. Dreiling said her dogs swam at doggie day-care pools during the summer.
But that was nothing compared with the pandemonium of the Pooch Plunge.
"This is usually their big swim event," Dreiling said.
Copyright 2018 The Lawrence Journal-World. All rights reserved. This material may not be published, broadcast, rewritten or redistributed. We strive to uphold our values for every story published.