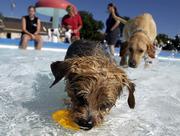 The Lawrence Outdoor Aquatic Center will be open to dogs Tuesday.
The city will host its third annual Pooch Plunge from 4 p.m. to 7 p.m. Tuesday at the aquatic center, 727 Ky. The event allows canines to swim and splash in the pool before it closes for the season.
All dogs must have documentation of shots and must be under their owners' control at all times.
The event costs $4 per dog, and preregistration is encouraged. People can preregister at www.lprd.org or at any Lawrence Parks and Recreation Department facility.
Copyright 2018 The Lawrence Journal-World. All rights reserved. This material may not be published, broadcast, rewritten or redistributed. We strive to uphold our values for every story published.