The year was 1968.
Martin Luther King Jr. and Robert Kennedy were assassinated.
Chicago police beat up on protesters outside the Democratic National Convention even though "the whole world is watching."
The war in Vietnam raged on, and President Lyndon Johnson decided he'd had enough and chose not to run for re-election.
It is because of those historic events and others that Gregor Brune amassed a collection of more than 6,500 pennies made in 1968.
Brune, a Lawrence resident, was only 2 years old in 1968, so he doesn't have any memory of it. But his interest in what happened 38 years ago is strong.
"It was an interesting year in world history, and so I've always had kind of a fascination for it," he said. "It was sort of the heart of the 1960s with a lot of turmoil that was going on."
A more recent date that stands out in Brune's mind is Sept. 27, 1999. It was that day that he came across some 1968 pennies and decided to hang on to them. Now, every time he gets a penny he makes sure he takes a close look at it.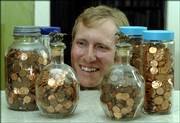 "I don't let a penny pass through my hands without checking it," he said. "As friends found out I was collecting them they would look for them for me. It just sort of took on a life of its own."
Brune even started a Web site about his hobby, www.1968pennies.com. He invites anyone with 1968 pennies to donate to his collection, and in return he lists their names on the site, along with how many they contributed.
So far, about 80 people have sent him 1968 pennies, including Lawrence City Commissioner Mike Rundle, who is on the list. Brune once worked with Rundle at Community Mercantile Inc., 901 Iowa.
If 1968 pennies ever become worth more than 1 cent, Brune doesn't expect to see the day. But there are going to be fewer and fewer of them as time passes, and he thinks they are more important as a historical period symbol. He said he doesn't intend to cash them in.
"I'm not collecting them for value," Brune said. "At this point I'm just trying to see how many I can collect."
Brune said he also collects other items from 1968, including books and record albums.
Copyright 2017 The Lawrence Journal-World. All rights reserved. This material may not be published, broadcast, rewritten or redistributed. We strive to uphold our values for every story published.