The principal says it's a necessary step to ensure kids' safety.
But some parents at New York School in East Lawrence are upset about a decision to lock the doors of the school's newly renovated front entrance at the beginning of the school day. They liken it to locking the front doors of a church on Sunday morning.
"It has a really bad feeling, and it's dividing the school," said Stefanie Olson, a mother of two daughters at the school.
The school's interim principal, Mike Browning, said he made the change at the beginning of this school year because of general security concerns. He said he doesn't have the ability to post an employee at the front door all morning to monitor who's coming in.
"After 7 o'clock in the morning, there's quite a traffic flow that goes in front of New York School, that I think it'd be safer if we kept the front door locked," he said. "I've been in the school business for 33 years, and ever since Columbine, the attitude of secure schools is a number one issue. Probably the one thing that students fear most is, 'Are they safe in their schools?'"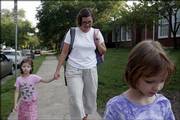 Children are now required to walk around the school and enter through north and south doors that lead to a hallway near the gymnasium, where staff members are nearby monitoring a before-school program. At 8:45 a.m., when the school day starts and all kids are inside, the front doors are unlocked.
Debate of the subject on the school's parent-teacher organization list server has been heated. Olson questioned whether it's really safer to allow children to walk around the school. On the north side, they must pass through a parking lot where delivery vehicles and garbage trucks come and go. Parents who drop their children off on New York Street aren't able to see their children go inside.
The school district recently finished drainage work on the front of the school and added a wheelchair-accessible entrance.
"It just makes me so mad that our kids, the people the school is intended to be used for, are not allowed to go in the front door, but everybody else is," Olson said.
Some parents have taken their concerns to Browning or the school district's central offices.
"I'm hoping we can sit down and analyze all the available options to maximize safety and keep the doors open before going forward with the current policy," parent Nancy Cayton Myers said. "I just don't think all the angles have been fully explored, both in terms of potential problems with locking the doors and in seeing how we can work together to continue to keep the doors open."
Tom Bracciano, director of Operations and Facilities Planning for the Lawrence school district, said it's not unusual for a school to have only one entrance that's used in the morning. He said the district is putting a growing emphasis on security, exemplified by plans to install "keyless access" systems at all schools in coming years. At junior highs and high schools, the system will be integrated with security cameras, which will be programmed to train their lenses on a door if someone tries to enter with an unauthorized key card.
"Quite honestly, we just need to know who's in our building," Bracciano said. "Mr. Browning is trying to ensure that he can monitor everybody in the morning."
New York Elementary School
Copyright 2018 The Lawrence Journal-World. All rights reserved. This material may not be published, broadcast, rewritten or redistributed. We strive to uphold our values for every story published.