Nathan Padia had the hands. All the Lawrence High wide receiver needed was more real estate.
Padia caught three passes in the final minute, but all three were just out of the end zone, and Olathe North escaped with a 34-27 victory over the Lions in the football season opener Friday night at Haskell Stadium.
"They couldn't stop Padia," Lawrence High coach Dirk Wedd said.
Padia, a 6-foot-3, 175-pound senior, put on a show by catching three passes for 132 yards, rushing three times for 61 yards and returning the opening kickoff 58 yards to set up the Lions' first score.
One of Padia's receptions was a 52-yard bomb from Chance Riley with just under a minute remaining. That catch put the Lions in business on the O-North 11-yard line with a chance to tie and force overtime.
On first down, Padia leaped in the left corner of the end zone and caught a Riley toss for an apparent touchdown. Out of bounds, the official ruled.
"I thought I caught it in the end zone," Padia said afterward, "but the ref said I didn't. It was a tough call."
On second down, Padia took a breather on the sideline and Riley threw incomplete in the flat to sub Jared Vinoverski. Minutes later, the Lions were socked with a delay of game penalty and pushed back to the O-North 16.
On third down, Riley connected with Padia in the back of the end zone, but Padia didn't make a clean catch.
Photo Gallery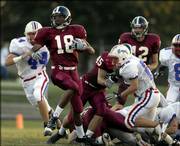 LHS vs. O-North football
"I might have been in (bounds) when I bobbled it," Padia said. "I don't know."
Finally, on fourth down and with under 40 seconds remaining, Padia made a leaping grab of Riley's pass on the right side of the end zone. This time, however, he was clearly out of the end zone.
"That was a desperation play," Padia said in reflection. "They had three guys on me. Chance made a really good throw."
And so the Lions, with only a couple of returning starters from last year's 10-2 team, fell short against an experienced Olathe North team that has been ranked as high as third in one preseason Class 6A poll.
"Anytime you play a team like that down to the last play," Wedd said, "you're doing something right."
The Lions did a lot of things right. Padia, for instance, wasn't the whole offensive show.
Senior running back Tony Williams rushed 15 times for 126 yards, including a spectacular 61-yard touchdown gallop. And fullback Tyler Hunt gained 77 yards on 11 carries and scored on a 6-yard run late in the third quarter that forged a 27-27 tie.
On defense, however, the Lions had difficulty containing senior running back Josh Gore, who rushed for 182 yards on 26 carries and scored three times. In addition, the Lions failed to force a turnover.
Lawrence was penalized only 20 yards, and had only two turnovers. However, one of the mistakes was costly. Williams fumbled a punt snap at the Lions' three and that gaffe gave the Eagles an easy TD minutes later.
Lawrence also surrendered an 83-yard kickoff return by Walter Evans the first time the Eagles touched the ball.
"We gave up 14 points on special teams and you just can't do that against a team as good as North," Wedd said.
Wedd had no other complaints.
"This team showed a lot of character," the Lions' coach said. "We're not used to losing here, but with hardly any starters back they showed a lot of good things."
Notably, the Lions twice battled back from two-touchdown deficits.
"I'm very proud of the kids," Wedd said. "They got punched in the mouth two or three times and came back. We can build on that."
The Lions will be back at Haskell Stadium next week to face another Olathe power in South.
Copyright 2018 The Lawrence Journal-World. All rights reserved. This material may not be published, broadcast, rewritten or redistributed. We strive to uphold our values for every story published.