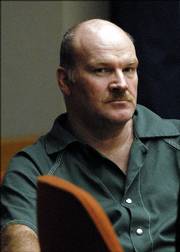 A man charged with murdering a retired jeweler last year in Lecompton during a home burglary made his first court appearance Friday in Douglas County District Court.
Wearing a green jumpsuit and leg restraints, Leonard W. Price stood with his fist leaning on the defendant's table through much of the hearing. He spoke just two words: "Yes," when Judge Michael Malone asked if he was Leonard Price, and "No" when Malone asked if he had any questions at the end of the hearing.
Price, a 44-year-old from Topeka with the nickname "Battle Axe," is charged with killing 77-year-old Clarence David Boose at Boose's rural Lecompton home on April 29, 2005. Dist. Atty. Charles Branson read the formal charges: first-degree murder and aggravated burglary.
Price already is in prison for trying to shoot a farmer who interrupted a burglary in rural Pottawatomie County just days after Boose's death. He was transported Friday to Lawrence from the state prison in Lansing.
"He just arrived here today. He wasn't even at the jail long enough for me to go out there," court-appointed defense attorney Craig Stancliffe told the judge.
According to police and court records, he and another Topeka man, Allen D. Smith, have been linked to burglaries in Jefferson, Jackson and Pottawatomie counties in the week surrounding Boose's death. Smith also is serving prison time for attempted murder in the Pottawatomie County case but has not been charged in Boose's killing.
At least eight sheriff's officers provided security during the hearing. In addition to convictions for burglary, theft, aggravated battery and attempted murder, Price has a 1988 conviction for "aggravated escape from custody."
He will be back in court Tuesday, when a preliminary hearing will be scheduled.
Copyright 2018 The Lawrence Journal-World. All rights reserved. This material may not be published, broadcast, rewritten or redistributed. We strive to uphold our values for every story published.