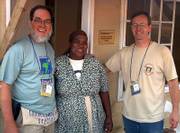 In the Philippines, the family thanked him with a home-cooked meal.
In South Africa, another family sang a Zulu song.
A song isn't much thanks for building a home. But in villages where reed huts and shantytowns provide shelter, sometimes a song is all a family has to give.
"There are limited ways of showing (thanks), I suppose," Ken Ratzlaff said. "But it's clear."
This week, Ratzlaff and three other Lawrence Habitat for Humanity volunteers will be in a village near Lonavala, India, to build 100 houses in a week for those who otherwise would likely never own a home.
The visit will be the third for Ratzlaff and fellow volunteer Jerry Feese as part of the Jimmy Carter Work Project, a global anti-poverty initiative to build homes for the impoverished around the world. Ratzlaff's wife, Ginger, and Ellen Bartz also will help hammer nails and hang plaster in Lonavala.
In all, more than 2,000 volunteers from the U.S., India, South Korea and elsewhere will help build the duplex-style homes, each with about 450 square feet of space. The new homes will provide something many of the families never had before, the volunteers said: safe and adequate housing for their children.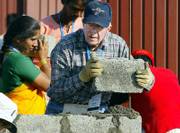 "They try to go into countries that are really struggling with housing people," said Jean Lilley, executive director of Lawrence Habitat for Humanity. "It really builds the whole community."
And building the community - the world community - is part of the group's mission.
Their volunteer work isn't done solely abroad. Feese also has been helping build homes in Lawrence for years, he said.
But the work in foreign lands helps to bridge cultures.
"It's an interesting, multinational experience," Ratzlaff said.
And it is emotionally rewarding to receive the hugs, smiles and thanks from those who are helped, Feese said.
"They don't really have anything to give other than their affection," he said.
Copyright 2018 The Lawrence Journal-World. All rights reserved. This material may not be published, broadcast, rewritten or redistributed. We strive to uphold our values for every story published.