Despite progress, women continue to be a minority in senior faculty positions at Kansas University and major universities across the nation, according a recent report.
Women make up about a quarter of tenured faculty at KU - the second-highest percentage in the Big 12 behind the University of Missouri, according to a gender equity report by the American Association of University Professors.
And 19 percent of KU's full professors are women - the third-highest percentage in the Big 12. Only MU and Texas Tech University had higher percentages.
"We've really made a concerted effort to hire and promote women," said Kathleen McCluskey-Fawcett, senior vice provost for academic affairs at KU. "It hasn't just happened. It's been a very conscious effort."
The report also found that men make more money, on average, than women at KU. It said KU female professors, on average, make 92.5 percent of what their male counterparts earn.
Numbers are rosier for tenure-track faculty at KU, where women make up 48.4 percent. KU ranks first in the Big 12 for that figure.
KU administrators say they're continually working on recruiting women and making sure they have support to grow in their careers.
"I think we stack up pretty well," McCluskey-Fawcett said of how KU fares when compared with other institutions.
McCluskey-Fawcett said she needed to look at the report further but thought the pay disparity between men and women could be attributed in part to men holding their senior positions longer than women. She said KU closely monitors pay equity to ensure there are no problems.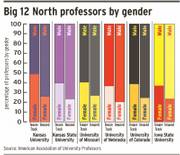 Lisa Wolf-Wendel, KU associate professor of teaching and leadership, said she thought a major factor behind the statistics is the challenge of pursuing an academic career while starting or raising a family.
"One of the things about higher-education faculty positions, for example, is that it's built on this sort of ideal worker norm and in order to be an ideal worker, one needs to be married to one's job" and work 80 to 90 hours a week, Wolf-Wendel said. "Ideal worker norms exist and are very prevalent at research universities, and when people have lives outside of work, it's hard to be the ideal worker."
Wolf-Wendel said universities could improve the number of female faculty by having good policies for family leave, offering affordable day care for infants and young children, educating department leaders of gender matters and continuing dialogue about the issue.
"If you don't talk about it, you'll just replicate the status quo," she said.
Photo Gallery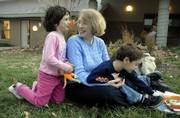 Female faculty at KU
Some women say that while they love their jobs, their families come first.
Belinda McSwain, a new assistant professor in KU's department of civil, environmental and architectural engineering, said her main concern before taking the position was whether she could juggle a career and a family.
"I struggled with how I was going to balance family, because the academic career is very demanding," she said. "My career is very important to me, but it's not necessarily the most important to me."
And juggling career and family, though difficult, is possible, said JoAnn Browning, KU associate professor of civil, environmental and architectural engineering.
Browning had two children before she earned tenure at KU. She said the key was setting priorities and having a supportive department and husband.
"When you love your job, you find ways to make things work," she said.
Copyright 2017 The Lawrence Journal-World. All rights reserved. This material may not be published, broadcast, rewritten or redistributed. We strive to uphold our values for every story published.