In Free State High's nine football victories this season, junior wide receiver Craig Rosenstengle has caught a touchdown in six of them, and quickly became the favorite target of senior quarterback Ryan Murphy.
Not a bad learning curve for someone who, prior to this season, played quarterback his entire football career.
Rosenstengle rewarded Firebird fans from his new position on the gridiron. He had 23 receptions for 585 yards to go along with the six scores. Before the season, Free State coach Bob Lisher said the team didn't have a clear-cut No. 1 wide receiver. Nine games, a district title, a Sunflower League title, and a perfect regular season later, that answer is crystal clear.
Coming into the season, did you envision having as big a role on the team as you do now?
I thought maybe I'd get to play a little bit and help the team, but I didn't expect to be one of the guys who's catching a lot of passes for big yardage.
Why did coach Bob Lisher try you out at wide receiver this season?
Coach talked to me and told me he thought he could use me at receiver one day. I just decided to go ahead and try it. It's worked out pretty well.
What have you learned about the game from senior quarterback Ryan Murphy?
He understands coverages, and I've learned where certain passes can be thrown and where certain ones can't be thrown. I've really learned how to read defenses.
With Murphy graduating, is it expected you'll replace him at quarterback next season, given the success you've had at wide receiver?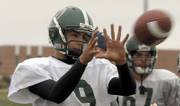 I don't want to look ahead to next season too much. But I enjoy playing quarterback, and I want to help the team win. If that means I have to play quarterback, I'll play quarterback. If I need to play receiver, I'll play receiver. As long as we're winning. I would imagine I'd play quarterback, though.
Of your six touchdown catches this year, has there been one that's stuck out in your mind?
Probably the one against Olathe South. It was the very first play of the game. It was a big game since both teams were undefeated coming into it. I just ran and gave a little out-fake and then went up on a post. The safety bit because (sophomore running back) Chucky (Hunter) was coming underneath. I just got by the guy, and Murphy put a perfect pass to me right in stride. It was a pretty long pass.
That it was - it went for 67 yards. What about the Week 8 game against Lawrence High? You broke an 88-yard touchdown against your crosstown rivals. How did that one rank?
It meant a lot because at that time in the game, we were losing. From there, the momentum shifted our way. It was fun. I just caught it, and I wasn't thinking about who was going to catch me. I didn't look back because if you look back, you're going to slow down. I just took off, and luckily, he didn't catch me until the very end.
By then, it was too late, though, as you had already reached the end zone. Although you're a junior this year, do you have any college plans yet?
I don't really know. I'd love to play football in college, but if it's not there, it's not there. Right now, I'm worried about this season. I know I'd love to play college football, but that's not something I can control right now.
You also plan to play on the basketball team this season. Which sport do you enjoy more?
I like playing football. I've always loved it. I think that's my favorite sport.
How long have you been playing football?
I started about fifth grade in the Lawrence Youth Football League. I played quarterback my whole life until this year.
Who or what sparked your interest in the sport?
My dad and I always used to watch college football on Saturday mornings. I always used to watch it on TV when I was little.
Do you have any favorite teams?
I'm a big Dallas Cowboys fan. I used to live down there, and I was a huge Troy Aikman fan back in the day. I also like Michigan football, too.
How would you define a successful season for the Free State Firebirds this year?
I would like to say as far as we can get. We have the talent. As long as we don't beat ourselves, we'll have a good rest of the season. We think we have the talent for a state title, but we're taking it one game at a time, one play at a time, one practice at a time. We know we have potential, but we try not to talk about it.
Copyright 2018 The Lawrence Journal-World. All rights reserved. This material may not be published, broadcast, rewritten or redistributed. We strive to uphold our values for every story published.