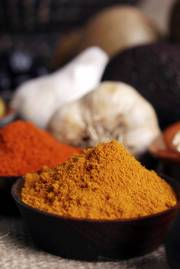 For centuries, people have believed that turmeric, an Asian cooking spice, could fight inflammation. Scientists now are confirming it.
"People have used this product for years and years," Kansas University researcher Barbara Timmermann said. "Now we are demonstrating with research that there is some truth to it."
New findings, published in the November issue of Arthritis and Rheumatism magazine, report that a version of turmeric extract is effective in preventing rheumatoid arthritis in animals. The version of the extract also was most closely matched to the kind found in commercial supplements.
The research was led by Timmermann, a distinguished professor and chairwoman of medicinal chemistry at KU, and Janet Funk of the University of Arizona.
Turmeric has been used for centuries to treat inflammation, particularly by practitioners of Ayurvedic medicine, the traditional medicine of India.
Subsequent research has explored the spice, which typically is used in curries and other dishes. But Timmermann said much of the previous research had not been done in a scientific manner.
"What we are doing is showing the safety and effectiveness of this botanical, using modern techniques of research," she said.
The research also reveals how the spice works: It inhibits the proteins that turn on the production of genes responsible for inflammation.
The researchers say further study is needed.
"People who are herbalists would look at our work and say, 'I knew this,'" Funk said. "But in fact they just believed it. There was no proof. This is really the first proof that this is really efficacious in preventing arthritis."
But, Funk noted, clinical trials need to be conducted.
Copyright 2018 The Lawrence Journal-World. All rights reserved. This material may not be published, broadcast, rewritten or redistributed. We strive to uphold our values for every story published.