Hot chocolate and brownies on Wednesday. Lunch for coaches Thursday. And today, a birthday party for Freddie the Firebird - with a cupcake-eating contest.
Those are just some of the treats served up this week as Free State High School continues its yearlong celebration of the school's 10th anniversary, said Jane Rock, who teaches family and consumer science and sponsors Student Council.
Rock said the school's formal 10th anniversary celebration will be in April.
However, this week, the school is honoring its clubs and organization sponsors, advisers and coaches as part of National High Schools Activities Week.
Also, as part of this week's hoopla, arts and music programs are being recognized with student artwork gracing the school's display cases.
"Fine arts is one of the most important departments we have here," Rock said.
Vocal music has not received lower than a No. 1 rating at state festivals, the marching band has done well over the years and the visual arts have been receiving recognition in state and national competitions, she said.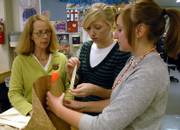 As part of activities week, Free State has also been providing some special treatment to teachers who serve as advisers, sponsors and coaches, Rock said.
"We've been doing little things through the week," she said. "It's just a way to say 'thank you.'"
Some of the clubs have been treating their advisers and teachers with extra gifts.
"It's been hot chocolate for the advisers. Brownies for the teachers," Rock said. And today "coaches will have a luncheon that's just for them."
One adviser got a balloon bouquet from her club members. Another got a gift certificate, while others had their classroom doors decorated, Rock said.
Today, "we'll also recognize an Adviser of the Year," Rock said.
Also this week, as part of National Youth Awareness Day, the school's FYI club will present a program using digital images that show how a body ages when tobacco is part of a person's life.
The culmination of the week will be the 10th birthday party for the school's mascot, Freddie the Firebird.
That event starts with an assembly at 9 a.m. in the gymnasium to recognize students who have won state and national awards.
And that will be followed by a cupcake-eating contest, featuring two sophomores, two juniors, two seniors and two faculty members.
"They'll see how many cupcakes they can eat in something like two minutes," Rock said. "It should be fun."
Copyright 2018 The Lawrence Journal-World. All rights reserved. This material may not be published, broadcast, rewritten or redistributed. We strive to uphold our values for every story published.