Wichita — Even after 14 years living in the United States, Silvia Resendiz still prefers reading her news in Spanish. That way, she says, she understands it all.
Resendiz, a restaurant worker who moved from Chicago to Wichita six months ago, said she scours the pages of the Spanish-language Tiempos newspaper looking for work, checking out the latest sales and keeping up on sports.
And she is especially drawn to the pages filled with the small-town news coming from the Mexican states of Zacatecas and Durango. Her parents still live in Santa Maria del Oro, a small village in Durango.
Tiempos publisher Wintilio Ortiz has found that covering the local news for Hispanic readers in Wichita also means covering the local news in the Mexican towns of Guadalupe Victoria, Durango and Miguel Auza, Zacatecas.
A large majority of Mexican immigrants living in Wichita come from those two Mexican states, Ortiz said, and they want to keep up with the local happenings back home as well as in Wichita.
So Ortiz hired correspondents in those Mexican towns to cover the local news there, and he buses 400 copies of the Wichita-based newspaper to the towns so relatives back home can keep up with their families in Kansas.
Tiempos correspondent Jesus Martinez said in a phone interview from Guadalupe Victoria, Durango, that residents in his town eagerly anticipate the arrival of Tiempos on the bus. They like any news it carries, but especially the social news coming out of Wichita.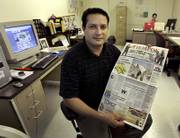 "They look for their family in the paper," Martinez said in Spanish. "They try to see if they can spot their family members in photos."
A recent issue of the Spanish-language Wichita newspaper carried news articles about Hispanic employment in the United States, food stamps, Wichita crime and immigration. There is an article about a Mexican man deported for selling medication made in Mexico and a story about the sentencing of a Mexican national convicted of killing three immigrants after a truck carrying 19 illegal immigrants overturned in Kansas.
The paper also carried a section dedicated to hometown news from Mexico: a photo of a one-car rollover accident that killed the driver in Zacatecas, the coronation of a Mexican girl at a festival in Zacatecas and new health regulations in Victoria Durango. It included photos of a baptism and a youth soccer game in Durango.
"In Durango, there are two or three small towns that have emptied out. Cousins talk to each other. ... They send a letter back home and tell them they are hiring. That is the way migrants move," said the Rev. Eric Weldon, priest at St. Patrick's Catholic Church in Wichita.
As an example, he pointed to Guadalupe Victoria, where at least half the population has migrated to the United States - most of them ending up in Wichita, Weldon said.
About 13,000 copies of Tiempos are published every other week in Wichita, Ortiz said. The Spanish-only newspaper, which is distributed for free, is in its third year of publication.
From a journalism standpoint, the news the paper carries is not unlike English-language media, Ortiz said. But the newspaper's office location in a Mexican plaza and its Hispanic staff set it apart.
"We are in contact with the community every day - and that is the difference," Ortiz said.
Copyright 2018 The Associated Press. All rights reserved. This material may not be published, broadcast, rewritten or redistributed. We strive to uphold our values for every story published.