Olathe — The question that's been posed to the Lawrence High gymnastics team since the beginning of the season has been, can the Lions win the state title for the third consecutive year?
During regional competition at Olathe East on Tuesday they got a glimpse of just how hard it will be to three-peat, as they beat O-East by just two-tenths of a point - finishing with 107.85.
"We knew it was going to be close, but it was fun," LHS coach Kathy Johnson said. "They qualified, so we've got one more to go. ... They're focused here at the end, so hopefully that will help carry over to the state meet."
The story of the night - as has been all year - was the performance of senior Abby Jones.
Jones' first-place sweep of all four events earned her the all-around title with a total of 38.225 points - beating her coach's best performance.
"I just challenged her one day, when she was getting up there I said, 'You know Abby, you're getting awful close to my state record,' and that's kind of been also a target for her," Johnson said.
Jones was also challenged in her floor routine when the CD player skipped to the next song when she landed one of her jumps near the machine. She still finished with a score of 9.50.
"What can I say, she's very talented at what she does," teammate Kara Kellison said. "And you can tell that she loves gymnastics, because if she didn't she wouldn't have been smiling after the floor routine when the music was being retarded."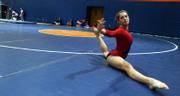 But as Johnson pointed out, it took the role players - added to Jones' performance - to pull off the first-place finish.
"It takes the whole group to get those three scores," Johnson said. "Mallory (West) had a nice meet on her two events. We had a couple of others step up to help fill in that third score in other events. Jessica (Williams) had a beautiful (floor) routine tonight and a personal best for her. So, they all stepped up and did their role today and it paid off."
Kellison was another who came up big. She finished fifth in the all-around after landing in the top six in all but the bars, where she finished ninth.
"My bars is still not the best it can be and that's a major thing I'll be working on the next week and a half," Kellison said.
With the hopes of a three-peat and a sweep of the three postseason competitions, Kellison and the Lions won't only be focusing on their own routines in the state meet at Shawnee Mission East on Nov. 4.
"At the state meet it's going to come down to who fell and where, who touched the feet on bars and who didn't," Kellison said. "And you'll be able to tell. If you watch us and we're not competing, we'll be all eyes on Olathe East. That's always how it's been and how it will be for probably a long time."
Copyright 2018 The Lawrence Journal-World. All rights reserved. This material may not be published, broadcast, rewritten or redistributed. We strive to uphold our values for every story published.