It's a decades-old Lawrence tradition: outstanding high school marching bands.
"It easily goes back into the '40s and possibly before that," said Bob Foster, former director of bands at Kansas University. "This place has a longer tradition than most places do."
The latest evidence of this ongoing excellence: Lawrence High School's marching band took top honors at the Heart of America competition Saturday at KU. About 20 bands competed, and LHS was named best in class and swept the other major awards. Free State High School's band took third.
Band directors, school administrators, parents and student musicians said the city's outstanding bands have a lot to do with Lawrence itself: The city's in tune to music and the arts.
"And when push comes to shove, you've got great teachers in the district," said Mike Jones, who has led the LHS Marching Lions to several honors this semester. "The junior highs are the foundation that makes these bands strong."
Another key is that so many students want to be in choir and band or choir and orchestra.
"I love having the choir kids in band because they know what tone is like and they're in tune. And I know Cathy Crispino (LHS music and vocal teacher) likes having band kids in her choir because they read music well and they understand rhythms," Jones said. "So both of them together is a pretty powerful combination that's really not replicated very much anywhere throughout the state."
Photo Gallery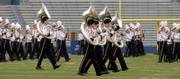 Lawrence high school marching bands
Parental support
Earlier this year, at a parent gathering, Jones had students line up their parents with instruments so parents could get a feel for the work it takes.
Mary Lee Norris, whose son Ian Nelson is a senior on the drum line, laughed when she recalled carrying her son's heavy cymbals and trying to march diagonally - and backward - at the same time.
"You really appreciate what they're doing," Norris said.
Cindy Monshizadeh, whose son Peter plays trumpet, said the discipline of the band helps students throughout their lives to achieve a goal.
And parents try to provide the support that band members need, Monshizadeh said.
Robin Jacobsen, whose husband, Terry, is president of the band's parent organization, said parents prepare food for band members when they travel, serve as bus chaperones and raise funds. And they do a lot of small things. For example, on Monday night, parents decorated the seniors' lockers.
Free State, too
Across town at Free State, Randy Fillmore, who's in his second year as band director, said the secret is the students' pride and enthusiasm.
"They're very dedicated. They are willing to put in long hours to achieve their goals," Fillmore said.
Fillmore and Jones said their bands have been practicing since the first two weeks of August, when camps took place at the two schools.
Free State's 170 band members have gone through three competitions this school year, Fillmore said.
At the Blue Valley High School competition, which featured about 20 bands, Free State was fourth in its class and eighth overall. At the Lee's Summit, Mo., festival, which featured 26 bands, Free State finished second.
LHS has participated in two competitions so far this year and has a third coming up.
In the Blue Valley competition, the Marching Lions took first place in their division in the preliminary round and second place overall.
The 165 LHS band members are getting ready for their final competition, which will be Saturday at the Neewollah Festival in Independence, Kan.
Joe Snyder, Free State principal, said parent involvement is a major factor in continuing a quality program.
"Music's a big deal in this community, and I think that gets translated to the schools," Snyder said.
Steve Nilhas, LHS principal, said the band is involved in football, basketball, assemblies and homecoming.
"It's just totally, totally interwoven into the fabric of this school," Nilhas said.
Copyright 2018 The Lawrence Journal-World. All rights reserved. This material may not be published, broadcast, rewritten or redistributed. We strive to uphold our values for every story published.