A controversial member of the Kansas Board of Tax Appeals has resigned.
In a letter to Gov. Kathleen Sebelius, Tom Slack said he would step down at the end of the year from the post he held since the governor appointed him in 2003.
"Several family and professional reasons led to this decision," Slack said in the letter.
The resignation, sent to Sebelius' office Oct. 16, came just days before a legislative committee convened Monday to discuss, in part, qualifications and outside employment of BOTA members.
County appraisers, tax attorneys and former BOTA officials criticized Slack when he was first nominated for the position, voicing concern about his relationship with attorneys who often represent clients before the board.
Earlier this year, the Journal-World examined Slack's ties to a tax law firm for which Slack appraised properties. Lawyers from the firm, Neill, Terrill and Embree, had at least a dozen cases before the board when Slack was appointed.
In at least one instance, Slack appraised a property for the firm while a member of the appeals board.
In his resignation letter, Slack said personal finances were a factor in his decision to step down. The state job pays more than $100,000 a year.
"When your office first asked whether I would have an interest in the position, I had some misgivings," Slack wrote in his resignation letter, "but the intellectual rewards have clearly outweighed the financial and travel sacrifices."
Before learning of Slack's resignation, members of the Special Committee on Assessment and Taxation prepared a draft audit statement regarding conflicts of interest of BOTA members and whether members actually worked full time as Kansas law requires.
Slack has been criticized for allegedly having conflicts and for continuing outside work while on the board.
"Recently, legislators have heard a number of concerns about a member of the Board (Slack) continuing to operate a real estate fee-appraisal business while serving on the Board, and working only part-time," the draft statement said.
At the meeting Monday, Sen. Greta Goodwin, D-Winfield, said she heard allegations that Slack did not recuse himself from the board while it was deciding at least one dispute involving the value of a property that Slack had appraised.
Slack testified in his Senate confirmation hearing in 2004 that he would maintain his private appraisal business, but that he would recuse himself from any valuation case on which he had worked as an appraiser and no longer would appraise properties in Kansas.
"He said he would recuse himself and not be part of the case," Goodwin said, referring to Slack's confirmation hearing. "We may have let the system down."
The committee did not vote on whether to send the statement to the Legislative Post-Audit Committee, which would then decide whether to pursue the matter.
Rep. Kenny Wilk, R-Lansing and chairman of the Assessment and Taxation committee, said lawmakers would have a chance to vote on the proposed audit today.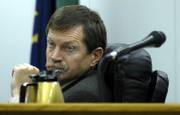 Slack could not be reached for comment Monday.
The concerns over Slack's conduct on the board came to the attention of Sen. Barbara Allen, R-Overland Park, in the form of an unsigned letter that said Slack worked only part time at the board and used his board position to further his appraisal career, Allen said.
During the hearing, Allen and others also questioned Slack's adherence to the Judicial Code of Conduct, which governs the board. The code's canons include avoiding the appearance of a conflict of interest and not using the prestige of office to advance private interests.
Rebecca Crotty, chairwoman of the Board of Tax Appeals, defended Slack, who did not attend the meeting, saying she never saw any evidence of a conflict of interest or she would have reported it. She also said Slack worked full time at the board, helping to lessen a backlog of tax cases that had built up during previous years.
"I can't tell you exactly what Mr. Slack's part-time appraisal business entailed," Crotty said. "To my knowledge, it did not (conflict)."
Crotty also criticized the use of an unsigned letter as a basis for the hearing. Others also questioned the motives of the letter, which was written, apparently, by another appraiser who appears before the board.
Copyright 2018 The Lawrence Journal-World. All rights reserved. This material may not be published, broadcast, rewritten or redistributed. We strive to uphold our values for every story published.