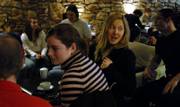 Each week they gather in the lamp-lit lounge in the back of Aimee's Coffee House on Massachusetts Street.
They settle on the low couches or sit at the dainty cafe tables. They sip espresso and coffee and, perhaps just for a moment, feel as if they're in the old country.
"It's like a little slice of Italy in this little room," said Sam Jeter, a group member.
Each Thursday at 5 p.m., Kansas University students and faculty gather for La Tavola Italiana, a social gathering for those who speak - or try to speak - Italian.
The group, whose members come and go as they please, has remained a fixture of KU's French and Italian department for years. It once met in the Kansas Union, but that seemed too much like school, said Marina de Fazio, coordinator of KU's Italian language program.
So, years ago, the group turned to the Full Moon Cafe, now the site of The Casbah. It later gathered at Teller's. And the latest site is Aimee's, 1025 Mass., where no one seems to mind when the crowd swells and the chit-chat gets louder.
The group is for students of Italian, but it's open to anyone, de Fazio said. The only goal is to have a comfortable place to test the language of love.
"Speaking a language is something that's very spontaneous," said KU lecturer Bryan Messerly, who came last week with his wife, a native of Italy. "Something like this is very good for the students."
The numbers fluctuate. But each meeting includes at least one Italian instructor.
Listen to some of the conversation at La Tavola
Jeter, a KU sophomore, sat next to his friend Michael Shorman. Both are planning trips to Italy next summer.
They stumbled through a conversation.
"It's not that easy," Shorman said. "This is good practice. That's for sure."
A few feet away in another circle sat Jamison Law, a KU junior whose goal is to be an interpreter for the United Nations. Italian is just one of several languages he hopes to master. Law joined the group earlier this semester.
"The fear of speaking is gone," he said. "That's what we're here for - to learn."
-->
Later, Dena Mohammad dropped in. Mohammad is a graduate student from Iraq visiting KU on a Fulbright scholarship.
"I'm crazy about everything Italian," she said.
For the instructors, it can be a time to slow down an otherwise busy schedule.
Elena Ghezzo, a lecturer originally from Venice, said that it's often hard to get together unless you set an appointment. But the group makes meeting easy.
"It's something that we look forward to every week," she said.
Copyright 2018 The Lawrence Journal-World. All rights reserved. This material may not be published, broadcast, rewritten or redistributed. We strive to uphold our values for every story published.