Photo Gallery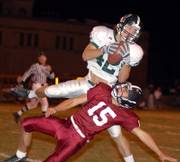 Free State vs LHS football
When Andy Petz looks ahead of him on defense, he typically pinpoints which opposing running back to chase down.
In one instance Friday night against Lawrence High, Petz saw nothing in front of him except the end zone. With 1:53 left in the third quarter, Petz intercepted a Chance Riley pass at the 19-yard line and took the football into the end zone, untouched.
"There was no better time for my first touchdown," the senior linebacker said. "With the LHS game, it was a great scenario, too."
In Free State's 49-15 victory against Lawrence, the Firebird defense held Lawrence High's senior weapons - running back Tony Williams and wide receiver Nathan Padia - in check.
Padia had only two receptions for 63 yards. He scored a touchdown, but the game was already out of reach by then.
On Petz's interception, Riley looked for Padia. It was obvious the Firebirds had an eye - sometimes two - on the LHS senior wide receiver.
"A few times we put two guys on him to slow him down a little bit," Free State coach Bob Lisher said of Padia. "We had some pressure underneath and put a guy over the top of him. He's an excellent receiver who can go up and get the football with some speed, so we were a little worried about that."
One mission accomplished. The next mission - stopping Williams - was particularly interesting.
Williams had only 96 yards rushing. Lawrence High's run-heavy offense produced only 140 yards and 3.5 yards per carry. Put simply, it wasn't typical of Lions football. Lawrence coach Dirk Wedd offered an explanation why his team didn't have as much success running the football.
"Where no one gives the kids any credit are : those linemen are big-time players," Wedd said. "They're knockin' (Kyle) Weinmaster and freakin' (Mikel) Ruder, and (Jimmy) Bruce. They're all-conference football players."
Ruder's jersey was visibly muddier than anyone else's in Haskell Stadium. He was part of the pivotal fourth-and-one stop that gave the ball back to Free State deep in its own territory. The Firebirds did their homework again on the play. The fourth-down carry went to Williams.
"It was huge," Ruder said. "If they went down and got that first down, they could have scored and got some momentum. It was probably the biggest play of the whole game."
Senior defensive end Christian Ballard produced the biggest helmet-smashing pop of the night on Williams in the third quarter. Williams ran around the right end, and Ballard tackled the senior running back helmet-first, producing a fumble. Free State recovered.
Ruder said his preparation to stop the Lawrence High running game made him sleep-deprived.
"I never got to bed," Ruder said. "It's hard to sleep the full week. We didn't have school today. If we had school today, it would have been terrible. I wouldn't have paid attention."
He was too busy paying attention to stopping Williams.
Copyright 2018 The Lawrence Journal-World. All rights reserved. This material may not be published, broadcast, rewritten or redistributed. We strive to uphold our values for every story published.