The football action Friday night at Haskell Stadium split Lawrence friends and some families between red and black and green and white.
But it was the Free State High School faithful who came away happy after the Firebirds defeated the Lawrence High School Lions, 49-15.
"It's a huge accomplishment because LHS is our rival. To beat them by this much, it makes us all feel better," said Austin Bergstrom, a Free State sophomore.
As the game wore on, it became a blowout.
"At the beginning I thought we had a chance, but after awhile it got disappointing," said LHS sophomore Aimee Niedenthal.
The showdown, which has split the city since 1997, is a competition among students and friends who know each other fairly well or even once attended elementary or junior high school together.
"If we don't (win), it's just kind of embarrassing, and it's so built up, we make it a big deal," said Kristen Karlin, a Free State senior volleyball player, before the game.
"It just gives you that pride that you beat your crosstown rival," LHS senior soccer player Colin Flanders said before the game. His cousin took the field Friday for Free State.
Photo Gallery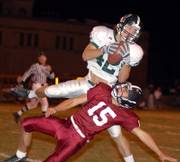 Free State vs LHS football
Fans in their green or red mingled a little but mostly stuck to their own as they tailgated and awaited the kickoff.
"I think it's very healthy. It's always good to have a city rivalry, and having two high schools is kind of special in a town. You have it focused on the only two in town," John Heitshusen said.
He wore his Free State cap and sat with the Firebird fans but said his heart was split because two of his children graduated from LHS and one earned a diploma from Free State.
School administrators on each side have said they try to keep it a healthy and friendly rivalry.
Students and fans insisted the competition makes it nice to store up a win for bragging rights.
"It all depends if you win or lose," said Jamar Reese, a senior Free State basketball player. "We'll all be friends again by Monday."
"It's a big rivalry because we are two Lawrence schools, and LHS is better," said Lawrence High senior Kaley Houk.
Mark Shipley graduated from LHS in 1977, and he said having two schools made for a great atmosphere during a football game.
"I think it's fun. It doesn't really get out of hand," he said. "It's all part of being 17 years old."
With heads butting on the field and Free State adding some graduating classes and years under its belt, the rivalry sometimes spills over.
Three LHS seniors - two boys and a girl - were found to have broken into Free State on Wednesday night. They took two state championship banners, which later were returned.
The students were suspended and prohibited from attending any school-related functions, including Friday's game.
LHS Principal Steve Nilhas said at least one of the students was a member of National Honor Society and could be kicked out of the organization. He also said the incident went beyond an "innocent prank."
Some said the banner incident was all part of the rivalry.
"It's all in good fun. It's always been like that," said LHS senior Andrew Toyne.
Like a family feud, the other side disagreed - sort of.
"It would be funny if we did it to them, but I don't think it's funny they did it to us," said Karlin, a Free State senior.
While Free State was victorious on the field, some LHS fans tried to downplay it.
"After a couple of days, no one really thinks about it. We won last year, but it doesn't really come up much during the year," said LHS sophomore Ursula Rothrock.
Copyright 2018 The Lawrence Journal-World. All rights reserved. This material may not be published, broadcast, rewritten or redistributed. We strive to uphold our values for every story published.