It's no secret what the Free State High football team's focal point will be in Friday night's city showdown against Lawrence High.
The Firebirds will look to stop LHS coach Dirk Wedd's run-heavy offense. Expect LHS senior running back Tony Williams to have a fire-engine-red bull's-eye on his back, due to his 861 yards and 11 touchdowns on the season.
The 2006 Free State defense is considerably better than last season's unit, which gave up more than 25 points per game. This season, the Firebirds have given up a meager 14 points per game and have recorded two shutouts. Free State didn't shut out any team last season.
"They're doing things fundamentally better than they did last year, plus they're a little bit stronger from being in the weight room," Free State coach Bob Lisher said. "We're a year older and more experienced."
Cases in point: seniors Christian Ballard, Mikel Ruder and Kyle Weinmaster, the massive defensive line that fields two Division I prospects.
To put the size element into perspective, Weinmaster, the only non-Division-I recruit, is listed at 6-foot-1, 230 pounds.
He's the smallest member of the unit, by 50 pounds.
The three walked to practice as a unit Wednesday with a sense of confidence and animosity. They don't smile - except when talking about the LHS running backs.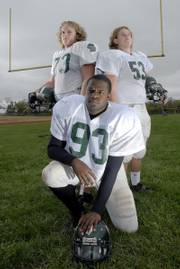 "I mean, I'm not really going to say anything : but if I was a running back, I'd be kind of nervous going up against our defensive line," Weinmaster said.
And who wouldn't be? Free State has held opponents to 142.9 rushing yards per game this season; not bad when your offense averages 283.14 rushing yards per game.
The trio up front was a prime reason Free State defeated Olathe South in Week 4. Despite committing six turnovers, Free State somehow won.
When O-South took over after the turnovers, it couldn't run the ball. The FSHS defense held O-South to a miserable 33 yards on the ground.
The stinginess, Lisher said, starts up front.
"Christian's pretty fast and strong," Lisher said. "Mikel Ruder has some speed and size. Kyle brings an added dimension of toughness to it. When you add those attributes together, that makes a pretty special D-line."
Ruder said the trio studied game film of Williams all week in preparation for Friday. Ruder said he particularly noticed the toughness of Williams' running style.
"If you hit some running backs once, they'll get a little tentative, but he'll get hit once and come back for more," Ruder said. "He's more of a powerful running back."
He's a powerful running back Wedd is not afraid to run the majority of the game. Williams has carried the ball more than 30 times twice already this season.
"They're going to run until they can't do it anymore," Ruder said. "Once we stop that, hopefully our secondary will take care of the pass."
As far as Friday night is concerned, Ruder won't have any trouble getting Free State ready to play.
"You have no idea how excited I am for this game," Ruder said. "Especially being a senior and knowing these guys and playing against them forever. I can't wait."
Copyright 2018 The Lawrence Journal-World. All rights reserved. This material may not be published, broadcast, rewritten or redistributed. We strive to uphold our values for every story published.