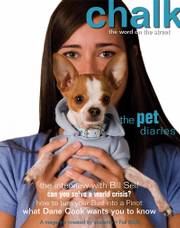 A Lawrence-based magazine produced by and for university students is going online.
Chalk magazine's new Web site, www.chalkonline.com, goes active this week, offering a look inside the lifestyles of Kansas University students through fashion, nightlife, trends, technology and other topics.
The Web site's launch comes as Chalk's second print edition is being distributed in town.
The free publication is available at the KU Bookstore in the Kansas Union, plus all greek houses, residence halls and many apartment complexes in Lawrence.
Chalk staff members will be handing out free copies from 11 a.m. to 1:30 p.m. today in front of Stauffer-Flint Hall and the Kansas Union. Fifteen students worked on the magazine.
Included in the Fall 2006 issue: facts and figures about breast-augmentation surgery; tips for the ultimate tailgate party; what songs are on KU basketball coach Bill Self's iPod; and the hidden costs of having a pet dog or cat.
"We're just giving people what they want to read, whether it's for an hour in class or it's something that stays on your table and you can continue to pick it up and find something new," said Katy Ibsen, Chalk editor.
Chalk is a product of Sunflower Publishing, a division of The World Company, which owns the Journal-World.
Chalk's first issue recently received an award in the Best Teenager or Young Person's Publication category of the Suburban Newspapers of America's annual Advertising and Promotions Contest.
Copyright 2018 The Lawrence Journal-World. All rights reserved. This material may not be published, broadcast, rewritten or redistributed. We strive to uphold our values for every story published.