Atty. Gen. Phill Kline on Monday brought up a 15-year-old sexual harassment claim against Democratic challenger Paul Morrison, a move that Morrison's wife called "malicious" and proof that Kline had lost his "moral compass."
"I hope that when Phill Kline goes home to his family tonight that he feels ashamed of what he did today," Joyce Morrison said, adding that the accusations of sexual harassment were unfounded and had been dismissed from federal court for lack of evidence.
Kline spoke of the allegations as a new poll showed Morrison surging ahead of Kline 56 percent to 43 percent, a 16 percentage point swing in one month. In September, the SurveyUSA poll had Kline at 51 percent and Morrison at 48 percent.
Just hours before the poll results were released, Kline and Kansas Republican Party Executive Director Ron Freeman had a news conference where they brought up the sexual harassment lawsuit, saying it was proof that Morrison had misrepresented his leadership as Johnson County district attorney as being scandal-free.
In 1991, the Johnson County victims witness coordinator said she had been sexually harassed by her boss, Morrison.
But in 1992, the complaint was dismissed by the Equal Opportunity Commission. Later in the year, a federal court dismissed her lawsuit too.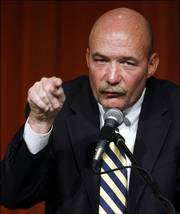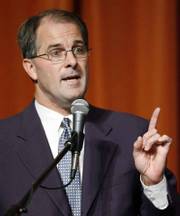 Kline and Freeman talked about the case in front of the Topeka Zoo because Freeman said "at the Topeka Zoo we have no weasels, and we believe we don't need a weasel in the AG's office in Kansas."
After the news conference, Joyce Morrison spoke with reporters.
"We've known Phill a long time. I don't know when Phill lost his moral compass," she said.
"I don't understand how a person who claims family values can go out and attack another person's family," she said.
Kline's campaign provided reporters with copies of a portion of the deposition of the woman who complained against Morrison. In the statement, she said Morrison made a pass at her while they and others from the office were drinking at a bar.
Morrison's campaign said the accusations were "utterly false."
Kline said he was justified in bringing up the lawsuit because Morrison often has mentioned that Kline's nephew, whom Kline had hired to be his driver, had been arrested on drug charges, and that Bryan Brown, whom Kline hired as director of the attorney general office's consumer affairs division, had been arrested a dozen times as an anti-abortion protester.
"I've known about the sexual harassment lawsuit for some time and have been reticent to speak of it, but when Mr. Morrison repeated his claim that he had not been with a whiff of scandal, and he continuously attacked my family and falsely misrepresented Mr. Brown's service to this state ... I said enough is enough," Kline said.
Morrison's wife said the two situations were different because Kline as the chief law enforcement official in the state had hired people with criminal records.
During the Kline and Freeman news conference, Freeman also accused Morrison of settling a murder case "so he could spend more time on the campaign trail."
Morrison's campaign said the allegation was false.
The case involved the murder of David Harmon in 1982. The case was unsolved for 24 years until earlier this year when Melinda Raisch, who was Harmon's former wife, and Mark Manglesdorf pleaded guilty and were sentenced to 10 to 20 years in prison. The two will be eligible for parole in 5 1/2 years.
Concerning the poll, the survey showed Morrison, who had trailed in September by three points, now leads by 13 points.
Kline has lost his lead mostly by losing Republicans in western Kansas and Wichita. Kline had led by 20 percentage points in Wichita, and he now trails by 15. In western Kansas, the two candidates are tied; last month Kline led by 28 points.
The poll was taken Oct. 13-15, and surveyed 531 likely voters. The poll, conducted for KCTV-Kansas City and KWCH-Wichita, had a margin of error of plus or minus 4.3 percent.
The Kline campaign dismissed the poll, saying the automated telephone surveys are "notoriously inaccurate."
Copyright 2018 The Lawrence Journal-World. All rights reserved. This material may not be published, broadcast, rewritten or redistributed. We strive to uphold our values for every story published.