It was, and is, a story of humanity. Before Jim Sheeler and Todd Heisler wrote and photographed it, it was a story no one had ever heard before.
On Saturday, Sheeler and Heisler spoke at Kansas University about the year's worth of reporting on the families of fallen Marines that won them two Pulitzer Prizes, journalism's highest honor.
"It is the perfect blend of pictures and words," said Rich Clarkson, a Denver photographer who introduced the speakers.
But for Sheeler, a Rocky Mountain News reporter, and Heisler, a News photographer, winning the field's ultimate prize took teamwork. So Saturday, at Kansas Editors Day, sponsored by KU's School of Journalism, the two were joined by News editor and publisher John Temple and Marine Maj. Steve Beck, who was the journalists' lead source and gateway into the lives of the families.
Beck, who was stationed as a commander in Buckley Air Force Base in Colorado, served as the area's Causality Assistance Calls Officer, informing the families of Marines that they had lost a child or spouse.
Editors Day was a time for writer, photographer and editor to share a public talk with Beck, the man who made the story - and the award - possible.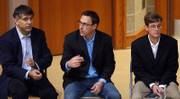 For every story one of the newspapermen shared, Beck had another angle, another take on what was a yearlong process of learning and sharing.
From their first meeting in Beck's office, he said he understood what Sheeler and Heisler would have to see for the story to be right, be complete.
"I knew the journey I would have to take them on for them to truly understand," Beck said.
From the beginning, Heisler said, he and the newspaper staff knew that the story would require one of a paper's most important resources: time.
They needed the time to get close, to live the lives of the Marines and their families.
"We had to live it," he said. "That's how we accomplished what we did."
The accomplishments didn't come without some initial roadblocks, they said. The original idea was to tell the story of one family who had lost a Marine.
But the family was not interested in doing the story, which happens, Heisler said. Instead, the journalists decided to focus on a larger picture - which, in the end, made the story what it was.
As the year between November 2004 and November 2005 passed, Heisler and Sheeler said they learned what the boundaries were, how and when to ask for permission to get closer. As Beck said, eventually he stopped looking out for the two; they knew what to do on their own.
"There came a time when I could just relax and not worry about them," Beck said.
From there, the two followed Beck and the families of fallen Marines for months. Then, in the basement of his home, Sheeler sat surrounded by Heisler's photographs and wrote the story.
Bit by bit, it came together.
Then, just before the story's publication, Sheeler went to Beck's house to show him the story, to make sure his words held only truth.
Sheeler, Beck and Beck's wife, Julie, all read the story. Long after Sheeler and Julie Beck finished, the Marine Major still scanned the words.
When they asked Beck what was taking so long, Sheeler said at KU Saturday, the Marine answered:
"You're reading it. I'm reliving it."
Copyright 2018 The Lawrence Journal-World. All rights reserved. This material may not be published, broadcast, rewritten or redistributed. We strive to uphold our values for every story published.