To some, he always will be remembered as Danny Manning's high school basketball coach.
Others know him as the former principal at Central Junior High School.
And now, Ted Juneau is taking a different career path: Since July, he's been working with groups across Kansas to build better after-school programs.
"We have over 500,000 kids who are school-aged. I would say 30 percent of those kids have nobody at home when school is out," said Juneau, director of the Kansas Enrichment Network, based at Kansas University's School of Education.
"With high-stakes testing around the state, I think schools have found that after-school programming can do lots of things," Juneau said.
That includes not only tutoring and academic enrichment but also fine arts and music, he said.
'Rich' experience
Juneau, who spent 24 years in Lawrence public schools, first came into the spotlight in the early 1980s.
That's when Juneau was the Lawrence High School basketball coach of Danny Manning, who later led KU to a national basketball title and went on to be an Olympian and NBA All-Star.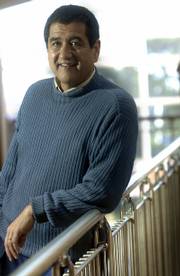 Juneau later became principal at Central Junior High School, where he worked 11 years until retiring at the end of last semester.
His latest foray into education is at KEN, which is charged with distributing about $1 million a year in grants for after-school programs in Kansas.
"My experience with after-school programs has been pretty rich," Juneau said. While at Central, Juneau worked with others to create an after-school program with a budget of only about $1,000.
"We felt it was important to have an open gym," he said. "I always knew the value of that. I've had that experience of doing something on a shoestring, then having federal money to help really develop a competent program."
Three local grants
Lawrence gets three 21st Century grants administered through KEN, according to Sandee Crowther, the executive director of planning and program improvement for Lawrence's school district.
Crowther directs the after-school programs with Janet Murphy, executive director of the Boys and Girls Club of Lawrence.
Crowther and Murphy said they work closely together and with the After School Alliance, an advisory panel, to operate the local before- and after-school programs.
More about after school programs
Crowther said the programs cost about $1,000 per child for about 1,000 to 1,200 students.
"It's a million-dollar investment in the community for those 1,000 kids," Crowther said.
Murphy said the after-school programs begin with snack time, then a "power hour" of homework, followed by games, recreation and education programs.
The programs are funded with a combination of fees from parents, grants from local government and through Boys and Girls Club fundraising efforts.
The three 21st Century grants coming to Lawrence through KEN are: $124,998 at New York School; $218,000 for Woodlawn, Pinckney and Kennedy Schools; and about $90,000 at Central, Crowther said.
Revenue is key
The KEN program has more than 60 partners throughout the state, including parent teacher associations, Boys and Girls Clubs, and YMCAs.
"We want to ensure whatever the grantees proposed for their programs, that's what happens," he said.
He said after the three-year grant period, KEN also works with local communities to help sustain those programs financially.
"It's for those kids that don't have those opportunities that we should be working hard to provide," Juneau said.
Copyright 2018 The Lawrence Journal-World. All rights reserved. This material may not be published, broadcast, rewritten or redistributed. We strive to uphold our values for every story published.