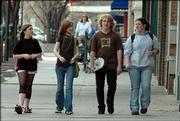 It's a refrain that's been around for about as long as young people themselves: "I'm BORED - there's nothing to DO around here."
But a new initiative undertaken by a 23-member partnership in Lawrence might soon have the city's junior high school students singing a different tune.
In January, United Way of Douglas County announced that its first Community Impact Fund grant would be given to GaDuGi SafeCenter and its partners to create Wednesdays at Liberty Hall, an innovative program for junior high school students who are dismissed early from school.
The program will begin in September, and the $50,000 grant will provide funding for two years. The grant was created in memory of Barbara Smith Reavis, the United Way's executive director from 1986 to 1997.
"The Community Impact Fund is a truly beautiful concept, with the intent to promote true collaboration among agencies and organizations in the city," says Sarah Jane Russell, executive director of GaDuGi SafeCenter.
Her organization - formerly known as Rape Victim-Survivor Service - offers sexual violence advocacy, support, education and social justice.
"The idea was to collaborate around a concern that the community had expressed. This (particular) project emerged when we read that the business community downtown had concerns about students' behavior on early-release days."
Since 1998, children enrolled in Lawrence's public junior high and elementary schools have been released about 1 p.m. Wednesdays to allow teachers time to collaborate and plan lessons as well as to receive training to improve their teaching.
Several schools in Lawrence already provide opportunities for after-school activities, including Central, South and Southwest junior high schools.
Early release from school has created frustration for some downtown merchants because of streams of youngsters who congregate along Massachusetts Street in search of places to hang out and things to do.
Wednesdays at Liberty Hall is intended to address that issue, providing free programming from 1:30 p.m. to 5 p.m. for children of junior high school age - seventh through ninth grades - across the city.
Each of the project's community partners will help develop programming, with suggestions and ideas sought from Lawrence youths.
The program will be based on five learning tracks: literacy, creative media, serving learning, life skills and marketable skills.
"This will be a safe environment to provide a creative learning experience for students. We need to emphasize the word 'safe' - it will be supervised by adults," Russell says.
"It will afford another choice for kids to be involved in their community."
There will be a kickoff event - a dance - in May, and then the project's partners will design their programming from that time until Wednesdays at Liberty Hall is officially launched in September.
GaDuGi SafeCenter, a United Way agency, will serve as the fiscal manager for the event.
Among the 23 partners working together on the project are Lawrence Arts Center, Lawrence Public Library, Roger Hill Volunteer Center, DCCCA, American Red Cross, Lawrence Memorial Hospital, Sunflower Broadband's 6News, Lawrence Transit System and KLZR FM-105.9/KLWN AM-1320.
'Good fit for us'
GaDuGi SafeCenter brings a wealth of experience of working with young people to its leadership role in creating Wednesdays at Liberty Hall.
The organization provides educational awareness programming for all ages in area public schools and in the community on respect, bully behavior, sexual harassment and sexual violence.
It offers prevention education programming for children in area public schools on these same issues. Three such programs are Steps-to-Respect (for children in fourth through sixth grade), S.U.R.G.E. (for children in seventh through ninth grades) and Between Us (for high school students).
Other activities include a teen book club and a mentoring council.
"We have an emphasis in our work with students on issues surrounding respect, healthy boundaries, healthy relationships. When you start thinking about that, this (the new project at Liberty Hall) is a very good fit for us," Russell says.
"We have had a program at Central Junior High School called S.U.R.G.E. (Students Upholding Respect and Gender Equity) for eight years. It's going very well. It's established, and we have a grant to support that work."
Enthusiasm evident
GaDuGi SafeCenter's partners in Wednesdays at Liberty Hall express excitement about the project.
"Sarah Jane (Russell) gave me a call. She said she was going to go for this money (the Community Impact Fund grant) and asked if I would come to a meeting for some tactics and planning we might present to the United Way folks. I felt like this would be something worth pursuing," says Hank Booth, station manager of KLZR FM-105.9 and KLWN AM-1320.
"Our part, in the long run, will be to add some (radio) training, some on-air practice activities for the kids. They're going to be able to be recorded and understand how a radio station works. We're going to have a lot of people here involved."
Wednesdays at Liberty Hall, Booth says, will provide youngsters an opportunity to get involved in something positive after school, rather than having hours of unstructured, unsupervised time.
"One of the keys is that we're going to have it at a place that kids will think is cool. Liberty Hall is kind of an adult place, a cool place where bands play, a fun place to be," he says.
"If this turns out to be as successful as I think it can be, we're going to need more (adult) volunteers."
Arts, library input
The Lawrence Arts Center will provide various art components of "Wednesdays at Liberty Hall," according to Margaret Morris, the center's education program director.
"One of the main projects that we've talked about is doing murals. Liberty Hall has talked to us about doing a mural there, and we will bring on professional artists to work with the kids," she says.
Kim Patton, young adult specialist at the Lawrence Public Library, 707 Vt., was one of the early backers of "Wednesdays at Liberty Hall."
"I think it is so wonderful. It says a lot for our community to see so many agencies that want to be a part of this. It really tells our kids that we value them, and it makes our community a better place," she says.
The library will provide a literacy track for the new project.
"We will do book discussions, activities that have something to do with books that kids are reading. We'll try to bring authors in : that's just the beginning."
Patton supports the basic goal of Wednesdays at Liberty Hall - keeping youngsters occupied and engaged in enriching activities.
"I don't want to say that having kids running around downtown is bad, but we want to give them constructive options. We want to open up all the possibilities that are out there in ways that they haven't really thought about," she says.
Rob Fitzgerald, manager of Liberty Hall, is eager to offer his facility for the program.
"Obviously, we thought it was a great idea. We said, 'Sign us up.' There's nothing going on Wednesday afternoons at Liberty Hall, and, shoot, I remember being young and not having anything to do after school, hanging around downtown," he says.
"We're a public building, and everybody's welcome at Liberty Hall."
Copyright 2018 The Lawrence Journal-World. All rights reserved. This material may not be published, broadcast, rewritten or redistributed. We strive to uphold our values for every story published.