Nick Collison doesn't know how he'll react when he receives a standing ovation wearing a green and gold Seattle SuperSonics jersey during pre-game introductions on Sunday in Allen Fieldhouse.
"It'll be fun, a little weird. In the NBA, I'm not used to getting a lot of attention. I've not been in the spotlight for four years now," said Collison.
He has been mostly a role player since leaving Kansas University, where he earned first-team All-America honors four years ago.
"I'll probably get more attention this game than I do all year. It's cool I get to come home to play again."
The 25-year-old Collison, who will start in Sunday's 1 p.m. tip against former KU teammate Kirk Hinrich's Chicago Bulls, says he most definitely misses his college days.
"All the time. It's the most fun part of your life," Collison said. "Most guys I talked to who have 9-to-5 jobs now miss it."
Not that Collison is complaining about his current lot in life.
"This is a lot different than college, a totally different game," Collison said of the NBA, "but it's still basketball. The guys are fun to be around, and you get to travel. It's definitely a good job."
It's a big upcoming season for Collison in Seattle. He's in the final year of a four-year, $7.59 million deal.
After this season, the Sonics will be able to match any offer the 6-foot-9, 255-pounder receives in the open market. Ideally, the 12th overall pick in the 2003 NBA Draft might land a multi-year deal worth about $5 million a season.
"I like it here," Collison said of Seattle. "I like how we play. It's like college when we ran with the ball and shared the ball.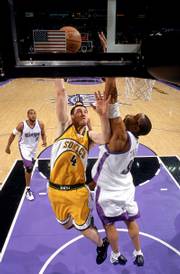 "I don't know what my role will be this year. It depends," he added. "I'm confident I'll be a big part of the team."
Coach Bob Hill said Collison, who averaged 7.5 points and 5.6 rebounds in 66 games last season, was always welcome on his team.
"We had the option to extend his rookie contract, but broke off talks," Hill said. "If Nick has a great year and somebody offers a lot of money, we have the right to match it. We can keep him. If he has the year everybody hopes he can, we'll definitely sign him or see what offer he gets," Hill added.
"Management's thinking. ... Trust me, everybody here loves and roots for this guy every day. Nick has more support here than he needs."
Collison, who missed his entire rookie season as he rehabbed a pair of shoulder surgeries, suffered a foot injury a year ago as he started to establish himself, missing a month of games.
During Collison's absence, Chris Wilcox stole his starting position and thrived, completing the season with a 14.1 scoring and 8.2 rebounding averages. The team has added yet another Collison competitor in rookie Mouhamed Sene.
"Nick was playing real well when he got hurt," Hill said. "Wilcox entered the lineup, and the rest is history. He went crazy. He had a game with 29 (points) and 24 (rebounds). The good news is they are different players. We can use both of them."
Collison - he spent the offseason working on his lower body and outside shot - has been on a different career path from fellow Iowan and KU roommate Hinrich, who has been playing major minutes for the Bulls his entire career.
"Kirk has played great. He's fun to watch. The team is fun to watch," Collison said of the Bulls. "He's come in the league, they gave him the ball for 30 some minutes a game and told him to make things happen."
Collison said there was no animosity between the two on game nights in the NBA.
"It's fine. We've done it enough. We're used to it. It's not bad for us," Collison said of the competition between buddies. "When we play each other, it's nice to get to see each other, go to dinner."
That won't happen this trip.
"The only bad thing," said Collison, who will have his parents, relatives and friends in the stands, "is we won't be there very long. We get in the night before and leave after the game. I wish we could stay a little longer."
Copyright 2018 The Lawrence Journal-World. All rights reserved. This material may not be published, broadcast, rewritten or redistributed. We strive to uphold our values for every story published.