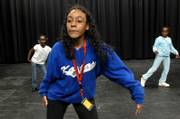 About 100 students will show off their music and dance skills tonight in the annual "Lights On After School" talent show at Lawrence High School.
The event begins at 6:30 p.m. at the LHS auditorium.
It will showcase entertainment acts from each of the 11 after-school programs operated by Lawrence public schools and the Lawrence Boys and Girls Club, said Sandee Crowther, the school district's executive director of planning and program improvement.
"We just want to keep the community aware that we want to keep funding going for these programs," Crowther said. "If we don't, it's lights out."
Crowther said each of the sites will send an act or performance to the show, which will run about an hour.
The after-school programs are operated from about 3 p.m. to about 6 p.m. Monday through Friday at Cordley, Deerfield, Kennedy, New York, Pinckney and Woodlawn schools; Central, South and West junior highs; and at the main site, the Lawrence Boys and Girls Club.
"I think they're very quality programs," said Ted Juneau, program director of the Kansas Enrichment Center, which oversees federal funding for such after-school programs throughout the state.
Juneau said Gov. Kathleen Sebelius has proclaimed today as "Lights On After School Day" in Kansas, joining 47 states in honoring such programs.
Copyright 2018 The Lawrence Journal-World. All rights reserved. This material may not be published, broadcast, rewritten or redistributed. We strive to uphold our values for every story published.