Say hello to Free State High's new 1-2 offensive punch.
Reserve running backs Bobby Burnham and Dale Coons combined for 209 yards and three touchdowns as the Firebirds buried Olathe Northwest, 61-0, in Sunflower League football Friday night at Haskell Stadium.
"They stepped up and did a nice job," Firebirds' coach Bob Lisher said of the two seniors who usually caddy for Brian Murphy.
Murphy did score two touchdowns in the one-sided affair, but the fleet senior didn't play after the first quarter because of a slightly sprained ankle.
That opened the door for Burnham and Coons to take turns subbing in the backfield with quarterback Ryan Murphy, Brian's twin brother and the other half of Free State's vaunted 1-2 punch.
"It was great," said Burnham, who finished with a career-best 127 yards on just 10 carries. "I just tried to step it up and run hard."
Coons, who collected 82 yards on eight carries, was surprised to make such an early appearance.
"I thought he was fine," Coons said of Brian Murphy. "Then they sent us in and I knew he couldn't carry the load."
Coons and Burnham proved to be proficient pro-tems.
"If he gets hurt," Coons said, "we know we have to pick up the slack."
Photo Gallery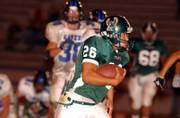 Free State vs. O-Northwest football
Meanwhile, Ryan Murphy, the Sunflower League's total offense leader by a whole bunch, contributed 138 passing yards and 99 rushing yards while playing only the first three quarters.
Even though Lisher used primarily reserves in the fourth quarter, the Firebirds scored three touchdowns as the wheels fell off for the Ravens, who had edged the Firebirds, 36-35, last season in Olathe.
Back-up Caleb Gress, a junior, joined Brian Murphy and Burnham as a two-touchdown producer with a 20-yard reception from Craig Rosenstengle and a one-yard run.
The snowball effect led to still another TD when ONW's Hunter Lagemann muffed the kickoff following Gress' second score and reserve special teams player John Bergman fell on the loose ball in the end zone with 3:49 remaining to conclude the most lopsided victory in Free State history.
Friday's win eclipsed the season-opening 60-0 romp over Leavenworth by one point.
"They're a good football team," ONW coach Todd Dain said, "but we made them look a lot better than they were. I think we made them look awfully good tonight."
In improving their record to 6-0, the Firebirds also are off to the fastest start in school history. The previous best beginning was 5-0. In addition, Free State became the first school to sweep the four Olathe schools in one season - an achievement only slightly tainted by the fact this is just the third year of ONW varsity football.
While compiling 554 yards of offense to just 162 yards for Northwest, the Firebirds displayed only one weakness. Lisher still can't find anyone who can kick extra points consistently, and he paraded - count 'em - four kickers onto the field Friday night.
Philip Ozorkiewicz clunked a conversion kick off the left upright after the Firebirds' first score. Then Lisher tried Jason Sneegas and Sneegas made his first attempt, but missed the second.
Next it was Mitch Morrow's turn. A member of the Free State soccer team, Morrow was successful on one boot and had another blocked. Finally, Dylan Holtkamp was given two cracks at it with similar results. Holtkamp made one and missed one.
"We've been struggling on extra points," Lisher said. "We're still looking."
The Firebirds aren't struggling anywhere else. Class 6A district play will begin next week with Free State playing host to Topeka High and it's obvious this is a team with long-range goals.
"We are thinking big things," Coons confirmed, "but we're also thinking one game at a time."
Copyright 2018 The Lawrence Journal-World. All rights reserved. This material may not be published, broadcast, rewritten or redistributed. We strive to uphold our values for every story published.