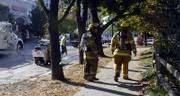 A natural gas line near Seventh and New Hampshire Street was ruptured this morning, filling downtown Lawrence with a strong odor. Some nearby offices were briefly evacuated.
Fire and medical personnel and utility crews are on the scene working to repair the leak.
Copyright 2017 The Lawrence Journal-World. All rights reserved. This material may not be published, broadcast, rewritten or redistributed. We strive to uphold our values for every story published.