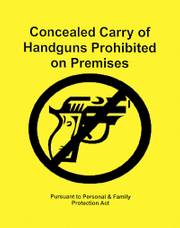 People licensed to carry concealed handguns will be able to pack heat while visiting nearly any business in the state next year, unless a sign is posted prohibiting the practice.
The sign proposed by the Kansas Attorney General's Office - based upon the design seen above - is up for a public review during a hearing Tuesday in Topeka.
Each sign would measure at least 8.5 inches by 11 inches, include the required font and logo, be yellow with black print and be "displayed in a conspicuous manner that is clearly visible to the public," according to the proposed regulations.
Tammy Moody, who makes her living selling signs, doesn't even have to see the proposal to know she doesn't like it.
"If I was operating a classy place, I wouldn't want it," said Moody, account manager for Luminous Neon Art & Sign Systems, 615 Vt.
Officials in the Kansas Attorney General's Office welcome such comments and others regarding the design and proposed rules regarding its use. Chuck Sexson, director of the office's Concealed Carry Unit, said a final sign should be approved and ready for use by early November.
The final design will be available at the office's Web site so that businesses can commission signs or print their own. The state plans to issue concealed carry licenses - 2,205 people have applied so far, including 62 in Douglas County - beginning Jan. 1.
Concerns already have surfaced that the sign wouldn't expressly prohibit other weapons, such as knives or throwing stars, Sexson said. The sign remains a work in progress.
"The point is to make it a uniform sign, so that people who are to obey the sign can readily identify it and obey it," he said.
Concealed weapons
Here are regulations proposed by Kansas Attorney General's Office regarding the state's new law that permits the concealed carrying of handguns by people who have secured a state license. The Attorney General's Office plans to issue licenses beginning Jan. 1. View the document »
State Sen. Phil Journey, R-Haysville, doesn't expect many businesses to post signs anyway. Most businesses in the 46 other states that have such laws have opted against posting prohibition signs, he said, because law-abiding gun carriers often would avoid such places, even if they weren't carrying guns.
"They will end up creating a potential for a negative impact on their income," said Journey, who wrote the bill and is a lawyer and chairman of the Kansas Second Amendment Society. "These people will trade with businesses that do not oppose their free exercise of their rights."
Journey chaired a committee that designed the sign regulations, working with the attorney general's office. Other members: Mike Murray, director of governmental affairs for Sprint; Amy Bertrand, chief attorney for the legal section of the Kansas Department of Administration; Jacob Swisher, of the Kansas Sportsmen's Alliance; Doug Wareham, senior vice president for government relations at the Kansas Bankers Assn.; and Dale Wasson, a member of the Kansas Board of Emergency Medical Services.
Have your say
What: Public hearing to review regulations regarding implementation of a law permitting concealed carry of handguns in Kansas. When and where: 1 p.m. Tuesday at the SRS Learning Center, 2600 S.W. East Circle Drive South, Room A, Topeka. Why: The Kansas Attorney General's Office is seeking public input regarding the proposed regulations, particularly the design and rules for signs. E-mail comments to ksagcc@ksag.org or mail written comments to Kansas Attorney General, c/o Julene Miller, 120 S.W. 10th Ave., Topeka 66612-1597, Attn.: Proposed Concealed Carry Regulations.
Copyright 2018 The Lawrence Journal-World. All rights reserved. This material may not be published, broadcast, rewritten or redistributed. We strive to uphold our values for every story published.