Six minutes.
In that time, Olathe Northwest scored all the goals it would need, defeating Lawrence High, 2-0, in soccer Tuesday night at the Youth Sports, Inc. complex.
That first score, which came at the 34:12 mark in the first half, occurred on a shot by Northwest senior Jonathan Herrera. He capitalized on the miscommunication of Lawrence's defense and fired the ball toward the goal during a one-on-one situation.
"That's hard for a keeper," LHS coach David Platt said. "And we shouldn't put him in that situation. That was a defensive breakdown."
That score should not overshadow a strong defensive performance by LHS (3-7-1) and particularly its goalkeeper, senior Colin Flanders. The Ravens attempted 28 shots on goal, and Flanders saved at least 15 of them.
"Colin was great," Platt said.
Flanders' best play showed his strong anticipation skills. At the 11:56 mark of the first half, he dove to this right to snare a header, which looked like a sure-fire goal.
"It was pretty good," Flanders said. "I knew the ball was coming across, and I saw a guy right there. I knew it was going to come off his head. I just had to be there and react."
Photo Gallery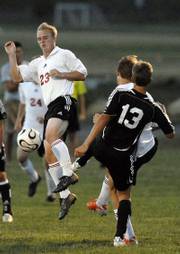 LHS vs. O-Northwest soccer
Despite Flanders' best efforts, Herrera would score again at the 17:26 mark of the second half. The captain demonstrated the speed of Olathe Northwest (9-1-1), which played like a squad capable of a run to state.
"They're a strong team," LHS junior Skyler Workman said.
In the first half - particularly in the last 10 to 15 minutes - LHS executed its game plan, maintaining possession with its forwards around the Northwest goal. But the Lions' faltered in the second half.
"They didn't do anything different. We did," Platt said. "We have a tendency sometimes to try to go forward instead of going wide and doing some things to help us maintain our possession. When that happens, they get easy interceptions and passing lanes, and it puts a lot of pressure on our defense."
Fortunately for Lawrence, the defensive side happens to be its strongsuit. They displayed strong teamwork, communication and rotation skills.
"Our defense was spectacular with the number of attempted runs they had in the second half," Platt said. "The whole defensive back five are really starting to come together."
A lack of togetherness, however, between the two teams occurred at the 12:14 mark in the second half. Northwest's Tim Lyons grabbed LHS' Kyle Craig around the neck, causing Craig to strike back. Both received yellow cards.
"They got a yellow card for the initial strike," Platt said. "Our kid got it for retaliating and pushing. It was called correctly."
LHS went to chest-to-chest with a strong team, and Platt said the team's effort bodes well its visit to Shawnee Mission North on Thursday.
"We can play with these teams," he said. "We just have to go in and score. Hopefully we'll get a chance to do that."
Copyright 2018 The Lawrence Journal-World. All rights reserved. This material may not be published, broadcast, rewritten or redistributed. We strive to uphold our values for every story published.