Stop the presses. Fire up the e-mail. Stick it on the Web site.
For the first time in the school's decade of existence, Free State High has knocked off Olathe South in boys soccer. The Firebirds posted a 2-0 victory Tuesday afternoon at the FSHS field.
"They're a little down this year, and they've had some injuries," Free State coach Jason Pendleton said of O-South, a traditional Class 6A power, "but they still have a talented bunch of young kids."
Neither team scored in the first half, but that was a plus for the Firebirds because O-South had wasted having the gusty wind at its back. When it was Free State's turn to have the wind advantage, the Firebirds needed fewer than five minutes to score.
Andrew Heck slipped a pass to Parker Liebl in the right box, and Liebl use fancy footwork to fool his defender and drill the ball past the O-South netminder.
"I had to work hard to get it," Liebl said of his first high school goal. "Andrew did a good job of beating a couple of people to get me the ball."
At just 5-foot-3 and 105 pounds, Liebl is the smallest player on the Firebirds' roster. But the pint-sized sophomore has plenty of soccer acumen.
"While diminutive, he's very skilled," Pendleton said of Liebl. "His teammates call him 'The Magician.'"
Pendleton, however, has called Liebl inconsistent.
Photo Gallery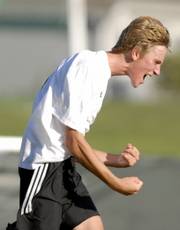 Free State vs. O-South soccer
"He's been up and down," the Free State coach said. "Some games he hasn't had any minutes at all, but he earned a chance to start, and he scored a big goal."
Liebl's ice-breaker came with 35:12 on the clock. The Firebirds' clinching goal came less than six minutes later when junior Erik Flan bounced a carom off the top bar with his forehead into the goal mouth at 29:23.
Flan's sixth goal coming off a head shot was a bit ironic because a couple of weeks ago he had missed about a week and a half after suffering a concussion.
"It feels pretty good," Flan said about disposing of an Olathe school. "We haven't won very many. I can only remember us beating Olathe North last year."
Pendleton cited the work of goalkeepers Mitchell Morrow (first half) and Ethan Morton-Gaught (second half) as well as defenders Travis Everett, Jordan Williams, Greg Glatz and, in particular, Heck.
"We usually use Andrew as an attacker," Pendleton said, "and he didn't pout about not being able to attack today."
Free State boosted its record to 4-5-1 while Olathe South dipped to an uncustomary 4-8.
"The big news is we beat a big opponent and we played well," Pendleton said. "We competed the entire time."
Copyright 2017 The Lawrence Journal-World. All rights reserved. This material may not be published, broadcast, rewritten or redistributed. We strive to uphold our values for every story published.