The Lawrence High girls golf team has fond memories of departed seniors Sydney Wilson, who now plays at Kansas University, and Jamie Shmalberg.
Senior Samantha Hays yearns to be remembered in a similar way.
"I just want the girls to miss me next year," Hays said, "and consider me a leader when I'm gone."
She is on pace to leave her own legacy. Hays, who also plays softball for the Lions, notched her career-best score of 101 at the Firebird Invitational at Eagle Bend Golf Course on Sept. 12. One week later she bested that with a 100 at the Lawrence High School Invitational at Alvamar Golf Course.
Not bad for a girl who had not picked up a golf club until her freshman year.
Do you see yourself as leader on this team?
I do. (Coach Mike) Lewis kind of helps me with that. I have been here longer than any of the other girls on the team this year, and I've been on varsity for four years. I played for Free State and was on varsity my freshman year. I have experience compared to all of them.
Is it weird to go from playing for Free State to its rival, LHS?
It is because I know those coaches really well, too. It's nice to see them at the Eagle Bend tournament every year.
Is it difficult to replace Jamie Shmalberg and Sydney Wilson?
Very difficult. I don't even come near to replacing either one of them. They were great leaders for the team, but they just put awesome scores up. I mean, I haven't even come close to either one of their scores. It's really nice talking to Sydney. She would always tell me that I was going to make a good leader this year.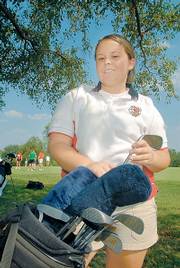 Did Wilson leave an impression on you?
She's all around my athlete role model. She was really good and she wasn't cocky or anything like that. She was just very down to Earth and a very good athlete.
How did you become interested in golf?
My stepdad (Tony Roush) is the one that got me into it. He would always go out golfing, and I would always go out with him. I didn't really play, but it was just fun being out on the course. I was like, "Maybe I can try it and be good at it."
What parts of your golf game have you focused on improving this year?
The long game is really what I've been working on all year. My short game - it comes and goes. When it's here, it's good. (I have been) working out on the driving range with coach (Lewis). He'll give you tips every now and then. You just have to keep practicing.
Is there someone on the team who really pushes you?
I have a little competition with (junior) Kalli McClure. It's really nice playing with her. She keeps me fighting.
Have you ever competed against guys in golf?
My brother - I have beaten him. Jonathan is 16, and he's really into golf. It's funny just to go out with him because he'll go: "Oh, I can beat you. I got this." And I'll go out there and kick his butt.
Are you better at softball or golf?
Very much softball. I've been playing that since I was 8.
Where do you want to go to college?
Right now I'm talking to a couple schools for softball. It would be nice to go to KU for the architecture program, but I just want to see how far I can push myself with softball and see what scholarships I get offered. (I've been talking to) Fort Scott, Highland Community College, Allen County Community College. I've basically just been talking to small schools.
Copyright 2018 The Lawrence Journal-World. All rights reserved. This material may not be published, broadcast, rewritten or redistributed. We strive to uphold our values for every story published.