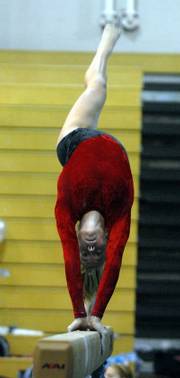 Before she started her floor routine, Abby Jones received some encouragement from the crowd at Free State High.
"Abby Jones, I love you!" shouted a child no more than 10 years old.
The Lawrence High senior gymnast looked up and smiled, but then her facial expressions turned serious, as she knelt down to start the floor routine.
Jones finished the Lawrence All-Around Invitational on Monday night with the highest all-around score - 37.85 - she's compiled all season. In fact, the only event she didn't win was the floor. She still placed second, though.
"I thought I did really well," Jones said. "It was a pretty normal meet, though."
Normal it was. Jones has now won four invitationals this season.
When asked whether she knew Jones would be this dominant, Lawrence High and Free State coach Kathy Johnson's response was simple.
"Yeah - she's a very strong and talented gymnast, and she's improved with each meet," Johnson said. "We knew she'd be our strong one."
Jones' preparation for each event was precise. Before her beam event, she walked through her entire routine on a mat off to the side. Before her vault, she sprinted about 50 feet to get ready for the jump.
Jones attributed her season-best score to an added bar dismount to her routine.
"I did a giant pull on top and then you swing through and let go," Jones said. "I did two twists with one flip and then landed. It's like a bonus, so it adds more value."
Jones said she's practiced the dismount for three years. Monday night was the first time since the state meet last season Jones attempted it.
Speaking of state, the Lions should have a dynamic duo of Jones and Mallory West, the two-time former state champion. West did not participate in Monday's invite because she's still recovering from reconstructive ankle surgery. Johnson said West would likely be ready to compete at the state meet.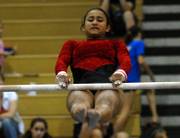 Free State senior Laura Devlin turned in an impressive finish, placing 10th in all-around competition.
"I thought I was really consistent," Devlin said. "That's how I am. I don't think I have one event that's my best."
Ankle braces and tape were noticeable on Devlin since she's also recovering from injuries. She broke her left ankle two years ago and sprained her right ankle last year. Devlin said she's fully recovered, but the injuries still linger. Johnson noted ankle injuries have been an unfortunate trend in the sport.
"It's a very common injury in gymnastics," Johnson said. "They just have to continue to strengthen it, and there's always a concern landing short, or rolling an ankle, is very common."
Perry-Lecompton senior Jennifer Pogge placed sixth in the all-around competition. Lawrence High senior Kara Kellison finished fourth, while fellow freshman Maria Carvajal did not place.
Copyright 2018 The Lawrence Journal-World. All rights reserved. This material may not be published, broadcast, rewritten or redistributed. We strive to uphold our values for every story published.