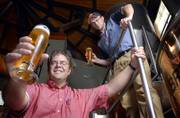 A brewery in southwest Lawrence is taking itself local - new owners, new beers, new name - just as it secures some national recognition.
The 75th Street Brewery, 3512 Clinton Parkway, won a bronze medal for its "Papa's Pilsner" at the Great American Beer Festival this past weekend in Denver.
The victory comes as Matt Llewellyn, the location's managing partner for the past 19 months, takes on a larger ownership role in the business.
Llewellyn, who grew up in Lawrence and graduated from Lawrence High School, leads a group of about two dozen local businesspeople who have bought majority interest in the property from KC Hopps, the Overland Park-based company that owns 75th Street Brewery, 810 Zone, Barley's Brewhaus, and O'Dowd's Little Dublin locations in the Kansas City area.
Talk about timing.
"Ever since this building was opened, back in '97, I've always loved it," said Llewellyn, who spent nine years as a regional manager for Old Chicago locations in Lawrence and the Kansas City area. "It should be the best restaurant in Lawrence, and I always thought it would be neat to come in here and do something. Then this came along. It was ideal. It was exactly what I wanted to do."
His first order of business: Ensuring that he retained Micah Weichert, the head brewer for 75th Street in Lawrence. Weichert is the guy who came up with the right mix for Papa's Pilsner, the brew that finished third among 33 entries in the Bohemian-Style Pilsner category.
Winning the gold medal in the category was an entry from SandLot Brewery at Coors Field in Denver - an operation, as the location suggests, that is run by Coors Brewing Co.
"If we're hanging with those guys, we're doing pretty well," Weichert said.
Weichert and the rest of the brewery's 80 employees soon will be working under a new name. By December, the place will be known as 23rd Street Brewery, with a new logo, some new beers and a few changes in decor.
Photos from old Lawrence High School classes already adorn the walls, and a Larryville Lite flows from the taps.
And don't tell Llewellyn that his place is on Clinton Parkway, not 23rd Street.
"I'm an old-school Lawrence guy," said Llewellyn, LHS class of 1984. "I remember when it was still called 23rd Street, and Clinton Parkway is still an extension of 23rd Street."
For now, anyway.
"I've thought about talking to some of our city commissioners and getting them to change the name back," he said with a laugh. "I figure that once we're in business for a little while, they'll think maybe it should be 23rd Street."
Copyright 2018 The Lawrence Journal-World. All rights reserved. This material may not be published, broadcast, rewritten or redistributed. We strive to uphold our values for every story published.