Because of a string of DUI convictions that could have reached felony status, the driver of the Cat Tracker bus was allowed to drive only vehicles with a breathalyzer attached to the ignition.
And Kansas Department of Revenue officials confirmed Tuesday that driver Brent Simonsson did not have a commercial license to drive a bus or any other large vehicle.
"If you're driving a commercial vehicle, you're supposed to be licensed to drive it," said Marcy Ralston, bureau chief of driver control in the Division of Motor Vehicles at the Department of Revenue.
Simonsson was driving the Cat Tracker fan bus Nov. 18 on the way to the Kansas-Kansas State football game when two passengers standing on the roof of the bus struck their heads on an overpass.
One of the victims, Shawnee resident John Green, 27, died when his head struck the Irving Hill Road overpass in the 1700 block of Iowa Street.
The other victim, Christian Orr, 34, of Salina, was listed in critical condition Tuesday at Kansas University Hospital in Kansas City, Kan., hospital officials said.
The restrictions on Simonsson's license took effect after he was arrested in November 2003 in Riley County for failing a blood alcohol test, according to court records.
He had three previous convictions for DUI, state records show.
Photo Gallery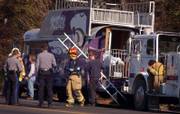 Pre-game fatality accident
Ralston said the restriction limited Simonsson to driving vehicles with a breathalyzer attached to the ignition, called an "ignition interlock device."
The device requires the driver to pass a blood alcohol test - typically registering a blood alcohol content less than .02 or .04 - before they can start the car.
The restriction on Simonsson's license began in 2006, Ralston said, and will last until February 2007.
A Lawrence Police report from the accident shows that Simonsson was not in compliance with a license restriction at the time he was driving the Cat Tracker.
However, state law allows for a person with an ignition interlock restriction to operate an employer's vehicle without the device during normal business activities.
It is unclear if Simonsson had been hired to drive the Cat Tracker bus Nov. 18.
When contacted Tuesday, Simonsson's attorney, Pedro Irigonegaray, wouldn't comment except to say that there were still issues to be analyzed.
"I don't want to make any comments because there are a lot of exceptions to the rules," Irigonegaray said.
Ralston confirmed that Simonsson did not have a commercial license while driving the bus, which had the capacity to seat 71 people and which held 21 people at the time of the accident.
According to Kansas law, a commercial license is required for anyone driving a vehicle carrying more than 15 passengers.
Manhattan attorney Robert Pottroff, who owns the Cat Tracker bus, did not return phone calls seeking comment made to his office this week.
Pottroff told the Manhattan Mercury last week that Simonsson was a longtime friend of his, but he was not aware of any problems with his driving record.
Copyright 2018 The Lawrence Journal-World. All rights reserved. This material may not be published, broadcast, rewritten or redistributed. We strive to uphold our values for every story published.