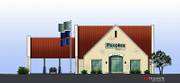 A bank that's been brewing for more than two years at a busy intersection in south Lawrence is poised to start construction.
Peoples Bank is awaiting final clearance from the Federal Reserve Bank to embark on its long-awaited plan to open a new location at the northwest corner of 31st and Iowa streets.
The site is in front of an Aldi grocery store, across the street from Douglas County Bank and in the heart of a shopping district that includes plenty of major commercial sites, including SuperTarget, Wal-Mart, Best Buy and others.
Peoples Bank officials see the $2 million project as an investment in Lawrence's present and future.
"The sky's the limit there," said Maley Wilkins, community bank president. "We want to be more accessible to our guests in the community. We think that with the growth of Lawrence, going south and west, it is necessary to cover those areas and we want to be part of that."
The new full-service location will cover about 4,000 square feet - "it'll be a MiniMe of our location here," said Wilkins, who works out of the Sixth Street and Wakarusa Drive location - and provide the same services available at other locations, including cookies. Peoples also has a bank at 23rd and Harper streets.
Wilkins said she was optimistic that construction could begin by the end of the month, in time to be open by next fall. The store will have about a half-dozen employees.
Peoples has 14 locations in northeast Kansas and northern New Mexico, offering banking, wealth management and mortgage services. The company has $50 million in assets in Lawrence.
Copyright 2018 The Lawrence Journal-World. All rights reserved. This material may not be published, broadcast, rewritten or redistributed. We strive to uphold our values for every story published.